---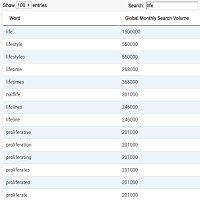 Despite appearances, a job at SEOlium doesn't necessarily mean we study SEO, create digital marketing strategies, perform A/B tests, or stay glued to clients' websites all day.

Sure, we do those things too, but we also like to play darts, share knowledge, or simply do… something crazy.

And this is precisely how we've got the idea to launch a Google Search "popularity" contest across all the [370099] words we could find in the English Dictionary. crazy.

Play around. Search words like "sex", "house", "business", "tree", or "bee".