---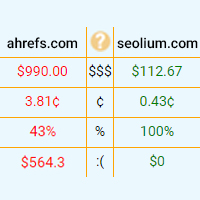 Let's help you find the cheapest Google rank tracking tool available on the market today, according to your own specific needs, shall we?

It's probably hard to resist playing with the calculator right now, so go ahead! And when you're done – make sure to read everything else on this page. We've explained what we did and how it all works behind the scenes.

PS: Just because some rank tracking tools are famous, it doesn't mean they are accurate, or affordable. Compare your current rank tracker to SEOlium in terms of costs and features, and take us out for a test drive. Enjoy accuracy at what it SHOULD cost you!