---
---
SEO
in 2019
One need not hope in order to undertake, nor succeed in order to persevere – William of Orange
---
---
I'd like you to take a brief closer look at the trends over the past 5 years (Google Trends).
Our experience is counter-intuitive: the market does not grow exponentially or even linearly, as one might have expected; on the contrary – we actually feel that interest in SEO is dropping. The SEO-related queries' search volume is declining and the sudden burst in 2016 is nothing but an improvement in data collection.
So our biggest prediction is, in fact, quite small – the "online" will be the same in 2019 as it was in 2018 or the years before (namely 2017, 2016, 2015, 2014, 2013 and so on). Same budgets, same optimization techniques, tasks, work methods or paradigms. What do SEO, websites, and people have in common? They change, only… slowly. However, same doesn't apply to search engines, so let's see what they have in store for us.
SSL-secured connections (https://)
Web safety has always been important to people, but not a priority when compromise came with slower page loading times. Beforehand, computers were larger and faultier while the internet was small and slow. Nowadays, however, devices are smaller and effective, whereas the internet is vast and fast. Technologies (fiber optics; wi-fi, 4g, smartphones, tablets, AppStore, the cloud, drones, etc.) have opened new possibilities and changed the way users behave. The fear of using a credit card for online shopping is slowly fading away, and people are reasonably expecting to maintain their comfort, privacy, and safety while surfing the web.
For these reasons, safe connections (HTTPS) have evolved from a slightly negative SEO factor (indirectly, due to the reduced speed) to an important SEO signal. Moreover, as of 2017, even browsers such as Chrome warn us when the pages we surf on are unsafe. This will certainly be a trend in 2019, therefore install that SSL certificate at once, mkey?! The upside is that this is a simple sitewide optimization, i.e. it helps each individual webpage. There may be only a 1% bonus at stake, but believe me, when you rank 2nd or 3rd for a search phrase this "boost" may help.
One aspect is that SSL is more important when personal data protection (people's identity, log-in data, bank data, etc.) is imperative, as is the case with online stores, e-mail, social networks, etc. and less important when the landing pages are purely informative and no exchange of personal data takes place.
320 characters meta descriptions
Traditionally, the SEO recommendation for meta descriptions was 150-160 characters (156), however, in late 2017 Google started displaying larger search results snippets, of up to 320-400 characters. This is quite lovely for website promoters in several respects: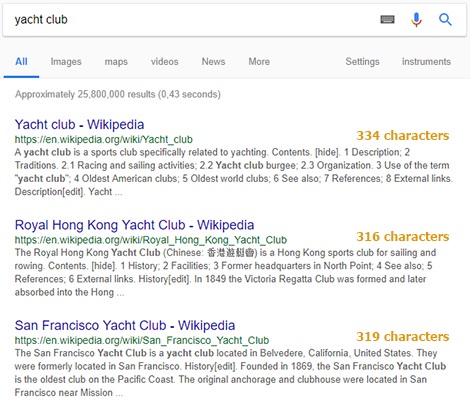 longer descriptions provide more SERP real-estate, vital for presenting distinctive features of the page people land on, therefore doing a better job at convincing them to click on the search result (you may offer guarantees, promotions, discounts, a phone number, etc.).
a Google search result may now take up to 7 lines (as opposed to 3-4 for many years until now): the URL address, the title, star-reviews and 3-4 lines of meta description, instead of the previous 2. This means that only the top 3-4 results (on a desktop, 1-2 results on mobile devices) will be visible above the fold and the user will have to scroll down for the rest. Ranking #1 or #2 for your favorite keywords is more important than ever.
longer descriptions also mean more search keywords, which in turn can lead to a significant advantage for long tail queries: the words will be highlighted in bold and CTR may increase.
It's important to mention that the absence of a description is also acceptable, in which case Google will auto-generate something relevant for the user, according to the search query and the actual text on the page.
So, instead of "sweating" on a bad meta description, how about saving a few bytes and leaving it blank?! :)
It's not clear why Google went for these changes, but let me invite you for a glass of conspiracy theory: longer descriptions will damage Bing's SERPs [should someone actually use Bing :)))]. Nooo, we don't think that, but, hey – when search intent is purely informational, descriptions will be so informative that users will no longer click on search results. We can expect the traffic of news websites, Wikipedia, Quora and others to drop dramatically.
Voice search: natural language and long-tail queries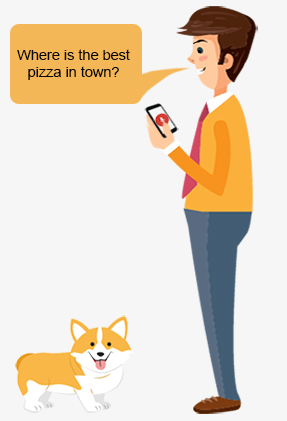 To understand what I'm talking about and to convince you that it is true, pick up your phone right now and launch the Google search app (usually available straight from the home screen, if you know how to use a smartphone), Chrome browser or www.google.com in any browser (laptop / desktop / tablet). Tap the microphone icon then ask calmly and clearly: "BestBuy working hours", "food delivery" or "is Empire State Building open?" Results are impressive. They actually work as rightfully should.
Careful though, this functionality is highly addictive!
Voice search was launched several years ago, but only gained popularity with the mass adoption of smartphones, 4g connections and, more than anything else, Google's breakthroughs in natural language processing. Which leads us to the idea that, as of 2019, pages serving long tail queries well should gain superior exposure.
Until now, out of laziness, people were generally Googling short and vague phrases that sometimes failed to "give away" the actual problem or intent. Consequently, to drive sales, websites needed to optimize and rank well for all user intents (short and long tail keywords), even if it meant [indirectly] paying for a lot of traffic they would end up partially being unable to monetize. Because people just didn't search using queries like "custom platinum engagement rings in New York City", did they? So if you wanted to sell – you had to rank for "rings", "engagement rings" or "custom rings". To catch your favored fish – you needed to catch all fish first. SEO used to be a game for Ivy League players, but, luckily, 2019 is leveling the playing field, which means excellent opportunities for niche websites.
Priority for mobile devices: smartphones and tablets
In 2015, Google stated that in case of mobile queries – pages providing a pleasant and optimized experience will have priority. "Mobilegeddon" was only the first step, but now most searches already occur on smartphones and tablets, and in late 2016 Google announced their intention to set up a primary, mobile-friendly index and a secondary one, for desktop computers only. Naturally, all the information "leaked" at conferences relate to politics and rhetoric. We won't buy for a second there are two distinct databases, but this statement is an even clearer signal that from now on, websites optimized for mobile experiences will be boosted. Normally, if they were to build an index for each usability criterion, they would have one for fast websites and another for slow ones, an index for websites with https:// and one for those without it, an index for websites infected with malware and one for the healthy ones, and so on.
Building and managing a brand's reputation online
Traditionally, SEO experts (and even Google themselves) have taught businessmen that, in order to rank well one has to create content and links to it. Valuable, friendly and appealing content + good, relevant and trustworthy links.
This approach generally works well, but it does have a number of limitations and disadvantages:
it urges people to build backlinks, when it is, in fact, Google's job to find solutions needed to better understand the relevance and importance of pages. Online businesses ought to invest time and effort into developing products, services, content, etc., without obsessing over links, as J. R. R. Tolkien brilliantly described in his book The Lord of the Links:

– "We wants it, we needs it. Must have the precious. They stole it from us. Sneaky little hobbitses. Wicked, tricksy, false!"

Let's face it, the situation where you don't care about SEO and only think about the user experience (ideal content) is simply not an option. Because you may end up waiting for years, and better Google ranks may never turn up. Whereas link-building actually works, which is why everyone is so obsessed with them, whether they admit it or not!
it creates unequal conditions for content creators, namely, it benefits large brands. We shall take the example of a domain name registrar and hosting provider, let's say: GoDaddy, HostGator, Bluehost or any other. It would be enough for them to issue a press release, launch a new product, do something fun, buy another company or simply change their name for links to start pouring. Has their quality of service changed? No. Will they rank higher in Google? You bet! So what should a smaller company (which often has better customer support, increased security, smarter hosting plans etc.) do to match this situation?
it leaves the door open for spammers. Creating good content is easy. First, you get your values straight and then you simply create it! Or, if you're a spammer – you can even copy it from somewhere, but make sure to change a few bits and bobs here and there. Google won't mind, because what's important to Google, rather than promoting genuinely good content, is, in fact, to have enough "evidence" that your content is good and uniquely valuable. There is an entire industry working on manipulating backlink signals on the web, and sadly, that industry is called SEO.
an epic battle between huge budgets and great ideas: links can also be purchased. Everyone does it. And those who don't – have their listings on the second page, further down. It's all right to have ideas but having a ton of money is fantastic. Google preaches that payment for "votes of confidence" is an immoral an unfair practice, which increases the risk of a penalty. But let me ask you this – why wouldn't a company pay for a couple of promotional articles if it helps them increase their exposure? Seems like a fair trade to me. I mean… you want an endorsement, you want to lend someone else's popularity, you want customers and dream to get rich? Then be a good lad and pay!
it encourages flattery, nepotism and influence peddling. If you are a notorious person (president, famous writer, TV star, blogger, actor, etc.), it's easy to channel the audience into producing links. This occurs in a natural manner, much like the case of big brands, but this exposure does not necessarily mean a higher value or remarkable qualities in a particular field. Imagine Ellen DeGeneres opening a chain of pizzerias nationwide. I bet she would leave the Domino's in the dust overnight! And if you're not an influencer, you can always pay or cozy up to one.
It follows that, in order to rank better, you have to be obsessed with links, a leading brand, a spammer, have a lot of money or many influential friends. But don't be upset, all right? The online realm resembles real life with the survival of the fittest, and Charlie Darwin wins!
Perhaps, at some point, artificial intelligence (together with Big Data) will settle these "inequities" for good and manage to accurately estimate the quality of webpages. But for the moment, Google does not have a better solution than analyzing links, and yet progress is being made in that respect as well:
priority for pages with a higher concentration of accurate and verified information
treating online mentions as "votes of confidence", even without a link
analysis of online reputation and "sentiments" towards brands
It is essential that in 2019 and beyond, you look after the online perception of your brand. Great content and links still remain important, but you should know that relevance, authority and notoriety are also computed based on factors such as online linkless mentions and citations. And maybe even those on TV, radio, books, written press, billboards and other offline sources.
There are also other benefits besides SEO, to having a brand that is known and loved by internet users – it may increase your website's click-through rate even when it sits further down on search results pages. Furthermore, a trustworthy brand may influence the decision to purchase, and then, even a low website traffic may generate spectacular sales because the brand fuels conversions so well.
Video content
Theoretically, search engines should not favor video content over traditional text; however since everyone owning a mobile phone can also shoot a video for YouTube – video content will be omnipresent in 2019. However, the greatest challenge will be to filter information. This is simpler with text as you open the document, instantly realize it's not what it should be, and you're out. The reason is that text can be structured, and the main ideas can be highlighted with larger fonts, colored, written in bold, underlined etc.
With videos things are more complicated: you first have to wait for it to load and then watch the entire video, which is often a massive waste of time when it lacks any interesting ideas. But, as videos are conceived for speed most producers have yet to invest sufficient time, skill, and resources to make them truly high-quality assets, something that applies especially to amateurs. In the commercial environment the necessary resources, talent, and budgets are much bigger (script, equipment, director, actors, editing, etc.), which will inevitably separate the wheat from the chaff.
I have one thing to ask of you: do not contribute to the dilution of quality in the online environment. Produce content only if you actually have something to say and it will be useful, and not because it's convenient or trendy.
Google AdWords
It's common knowledge that paid ads do not directly influence organic positions in Google. An indirect effect is when paid traffic generates new organic signals, such as shares on social networks or mentions on blogs, forums, and other websites. The reason why I added this chapter is the relatively low cost in many countries besides USA, Canada, UK, Germany and few others. We ourselves are from Romania and this article was initially written in Romanian and then translated. Later on, our friend Karl Hindle was kind enough to further translate it from regular English into native speaker English. Let's not deviate from the subject though – AdWords, as a marketing channel, is yet to be harnessed, and businessmen are gradually "waking up", so I assume it's fair to say that in 2019 we'll witness quite an increase in competition. Naturally, in tech-savvy niches such as e-commerce, SaaS, or online services (air tickets, hotel reservations, translations, food delivery), the competition was always huge, but from now on even more niches are going to use Google ads, which have the following advantages:
pay today – sell today (thus, tests are fairly cheap)
confidence that visitors are looking to buy (or are at least interested in the product/service)
total control over the budget (you may set a daily or monthly spending limit)
option to turn entire campaigns or individual ads on and off (it's also possible to deliver ads depending on user's location, language, time, keywords, device, etc.)
possibility to only target visitors who previously engaged with the website (or even bought something)
Social-Media
As with Google AdWords – outstanding performances in social networks don't influence Google ranks directly, either. Still – you need to be there. For several reasons.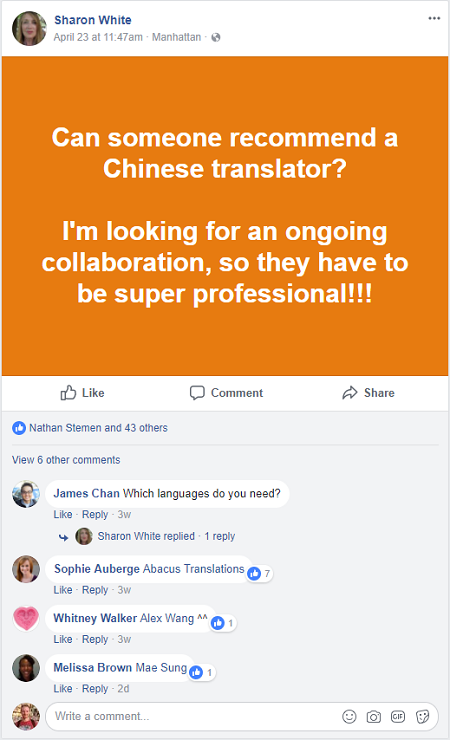 Albeit people used to watch a lot of TV, today everyone "wastes" a good amount of their time on Social Media. Some even – day and night. In this day and age, not having a Facebook profile makes you look suspicious. If you want to sell, you need to get in front of people, and for that, a plethora of tools are available to you: paid ads, "company" pages, interest groups, etc.
Certain [potential] customers wish to get in touch with you in real time, not on the phone, but via instant text messages, i.e. chat and messenger apps. For questions not covered by the website, for details about products/services, for support or for a million other reasons.
The "subscription" option, that is, you can build a community around the brand, which can be monetized in various ways.
There is a nice democracy about social networks, where people can recommend your business quite easily, by simply tagging your page in any post. Traditionally, only influencers with blogs were able to recommend you through links in their articles, whereas now everything moves to Social Media.
In the past, any search for products or services started in Google, whereas now, and especially in the future, everything takes place in Social Media. Search engines will probably still be used mainly for "informational queries", but nothing compares to a suggestion from a trusted friend, followed by a conversation reflecting their experience with a brand, no? Looking for a wedding photographer? Or a plumber? A car wash? Well, ask around on Facebook! You're not only going to receive a list of options, but also the pros and cons of each.
User Satisfaction Score
Search engines aspire to create ideal user experiences or at least limit the number of unpleasant situations. This paradigm has not changed in recent years and won't change in the future. What did change, however, is today's immense computing power, the colossal amount of information and storage capacity. But now we also have machine learning and artificial intelligence to make sense of it all. Search results will be ultra-personalized and it's more important than ever to make sure that "satisfaction" signals sent by internet users are favorable to your brand.
There is even an invention patented by Google on this topic. In a nutshell, it's all about collecting a few biometric parameters (body temperature, heart rate, blinking rate, facial skin color etc.) for every search that occurs in the universe, and using predictive models to compute "satisfaction scores" for each search result, depending on the query and the specific search intent. Thus, in time, the system would learn from itself and produce better and better results for a user or a group of users. In other words, link-based metrics are going down and user experience parameters are going up :)
This may sound a bit complicated, but let me rephrase this: Google will pay attention to your body's reactions and provide better results by filtering out unsatisfactory pages which cause adverse reactions. I'm using the future tense since I don't really believe that everything mentioned there has already come into effect, but the trend is clear – we will migrate from search engines towards personal assistants, and the results will be tailored depending on increasingly personal and intimate factors.
Current methods of analyzing user behavior in SERPs (including pogo-sticking), which the SEO community has grown accustomed to and accepted, will continue but evolve and refine further. Still, I should mention here that there are major conceptual differences between the way people surf the web using a laptop/desktop and a smartphone/tablet. Search engines are fully entitled to put more "trust" in signals acquired from mobile devices (phones in particular). The reason is a simple one: the "operating" speed (the user's productivity on the whole) is much lower in case of mobile phones (small screen, no keyboard or mouse, slower loading speed, less effective browsers, lower-tier processor and RAM memory, etc.). To save time, users are thought to be more considered and more responsible in their actions as a consequence.
Is this idea borne out by real-world data?
Let's press pause and see what happens both on the pages with Google results, as well as after the click: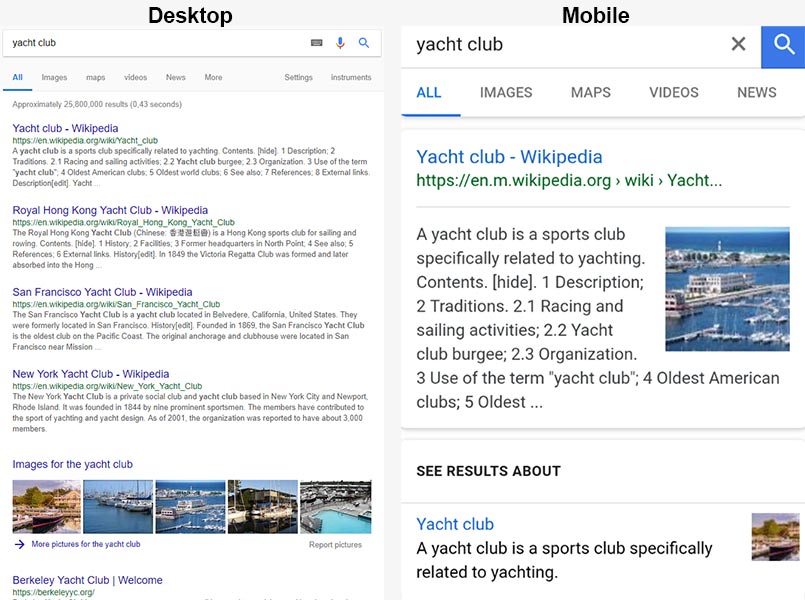 | Analyzed criterion | Smartphone and tablet | Desktop and laptop |
| --- | --- | --- |
| Number of visible results on screen | 2-3 | 6-7 |
| Number of scrolls required for a full SERP | 6-7 | 1 |
| Possibility to open a result in a new tab | low | high |
| Results opened concurrently (usually) | 1 | as many as desired (3-6-10) |
| Seconds to discard a bad result | it depends. 10? 20? | 2-3 |
| Need for optimized (responsive) pages | yes | no |
It follows that a mobile user consumes information at a slower pace, and therefore they will think twice before clicking on a result. Furthermore, when they return to the SERPs, we know something went wrong or they need additional information. And here's another interesting fact – on mobile phones, Google will be able to confidently calculate the time it takes the user to analyze each search result snippet, especially now that meta descriptions are going to be four lines long. This is impossible in case of full HD desktop screens since 6-7 results are displayed at once. I should also mention that these signals may prove impossible to use in practice, if there is too much "noise", but for me at least they are clear – if it takes someone 3-4 seconds to analyze a Google result without clicking on it, they have deemed it unfit.