Cheapest Rank Tracker Calculator
Just because some rank tracking tools are famous, it doesn't mean they are accurate, or affordable. Compare your current rank tracker to SEOlium in terms of costs and features, and take us out for a test drive. Enjoy accuracy at what it SHOULD cost you!
Usage-Based Pricing Calculator
1) How many keywords are you tracking?
5
1000
2500
5000
7500
10000
2) How often do you need an update on Google ranks?

3) What's your favorite rank tracking tool?

Registration successful. Please check your email address.

Please provide your email address.
All options, by least expensive annually
Where is all this data coming from?
If you're stopping by, it means we need to do some explaining here. Below, you'll find out what all the data means and how we got to it in the first place. So let's start with the latter.
Step 1: the complete list of rank trackers
To make the calculator thingy work – first, we needed an exhaustive list of all available rank tracking tools. Lucky us, we were already monitoring 515 keywords in this niche.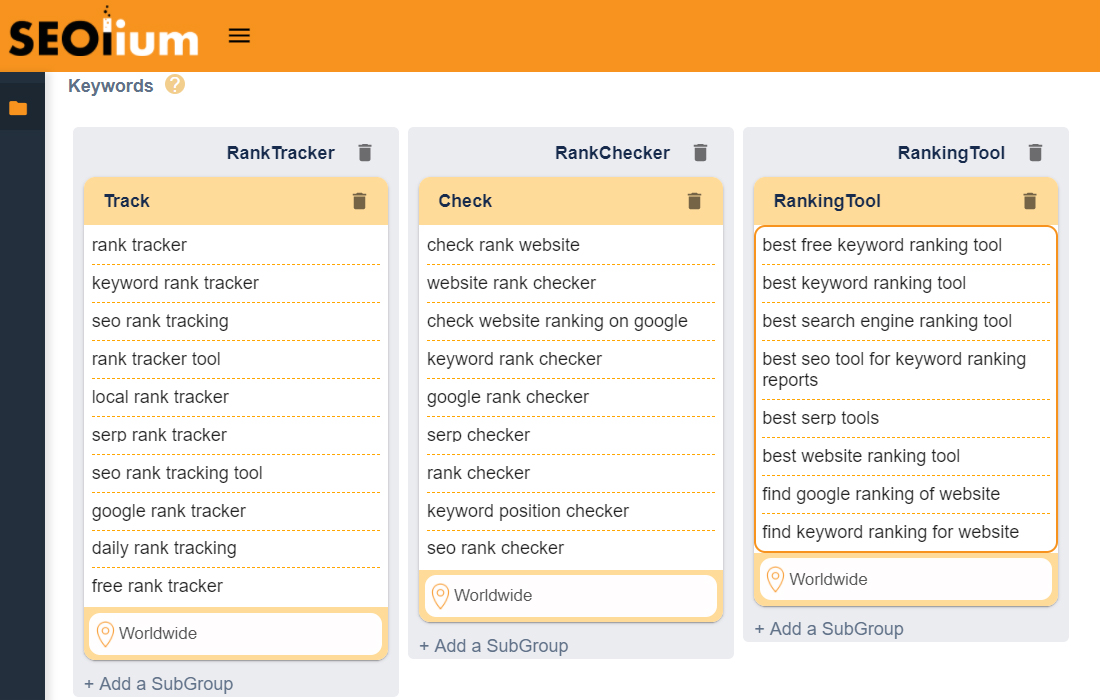 All we had to do was export the Competitors report, i.e., 1000+ websites.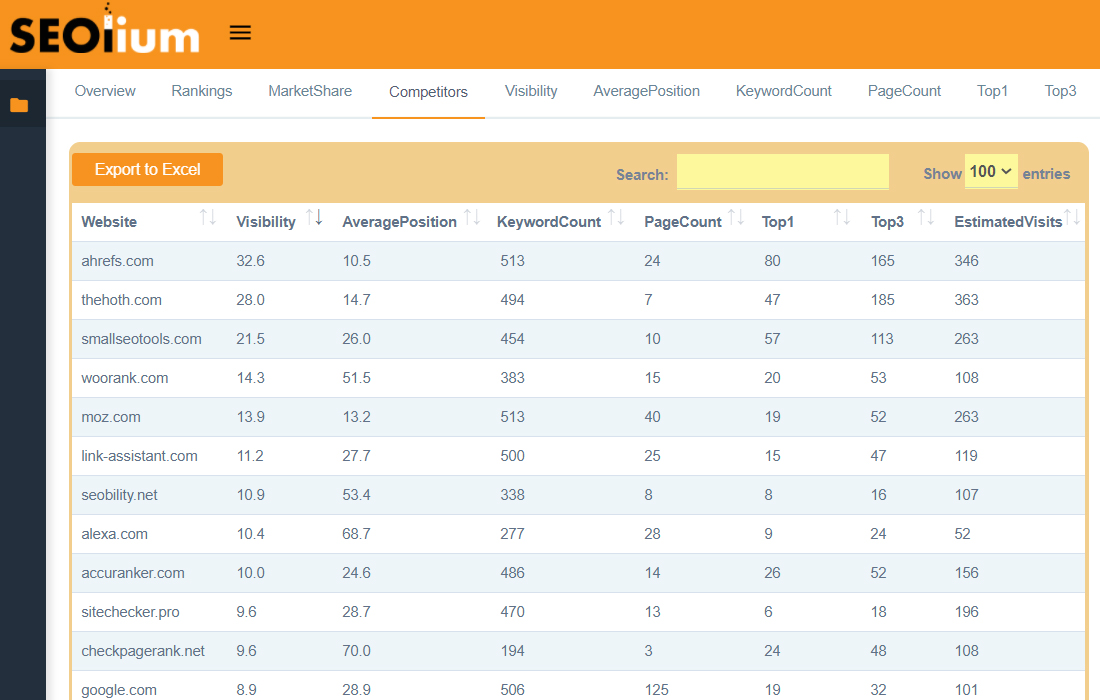 Which we manually visited to decide whether or not they are in fact a Google rank monitoring service and not just some SERP intruder (90% false positives!!!). To our surprise – we found as many as 107 providers! A few websites seemed rather outdated, others had years of social media inactivity. Nonetheless – we didn't exclude any provider.
Step 2: all rank tracking packages and pricing schemes
The next step was to collect all the available pricing packages and options (package cost, number of keywords, update frequency, payment schedule, etc.). Monkey job, yes, but someone had to do it!
And here's where things get a bit tricky. Rank tracking tools come in different shapes and sizes. In fact, we had to drop 2 or 3 providers from the equation; there was simply no way we could objectively compare them to the others. Apples and oranges, you see? What we ended up with were 3 pricing schemes:
Keyword Packages – these are by far the most popular, the iPhones of rank trackers. Similarly, what you get is a nice package but no control over anything else :) There are X keywords updated on a Y basis. What happens when you have less than X keywords in your account? You'll still pay the same fee, month after month, for a service which you constantly underuse. What happens if you need less often keyword updates? Or different update schedules among projects? Nothing, you'll still pay the full monthly fee even though you only need weekly or monthly keyword tracking.
Monthly-Expiring Credit Packages – this pricing scheme allows for more control over how many keywords you can track and how often. Basically what you get is X keyword checks (credits = keywords x frequency) which you can spend on your projects during that month. You can either track a lot of keywords weekly, or 7 times fewer keywords daily, it's entirely up to you. Additionally – regardless of whether or not you're using the credits to their full capacity – they will expire at the end of the month.
AsYouGo Credit Packages (Non-Expiring Credits) – these are the Androids of rank trackers. You have complete control over how many keywords you track, how many projects you create, and how often you set them to update. These are usage-based rank trackers. You only pay what you use.
Some providers offer various add-ons, others charge more for additional features such as the number of projects, competitors, or users, ability to export data, white-label reports, etc.
To compare them, we had to find some "common ground" first. We needed to translate packages into their canonical version. As trivial as this may sound, one thing became clear –
all providers charge by how many keyword rank checks they need to perform on your behalf
! This is not the number of keywords in your projects' settings; we're talking about how often they need to update their rank! Aka – how many
keyword checks
! So if you need to save on rank tracking services – choose a provider that allows you to control how often you set up your projects to update. Better yet, choose SEOlium; we're the only rank tracker with On-Demand updates and non-expiring credits that you can use anytime.
How does the cheapest rank tracker calculator above work?
This is the most important chapter. Take your time to read it.
Step 1: Input values
We've already established that with rank monitoring tools you pay for each time they have to "google" a keyword on your behalf.
This is why we needed to ask how many keywords you are tracking and how often you need an update on Google rankings. The "cheapest rank tracker" directly depends on that information.
But we also asked what your current provider was. We wanted to explain how you constantly underuse them, i.e., how much $ you waste by not needing their so nicely packaged monthly plan.
Why pay more for a lot of keywords tracked daily if you only need a few keywords tracked monthly or weekly?
Step 2: What is "cheapest"?
First of all, we should tackle what "cheapest" means. Most of you are used to "monthly subscriptions" and will think of "cheapest" in terms of "monthly". However, most providers offer long-term commitment discounts, which vary significantly. It's quite often that a provider has a slightly costlier monthly plan, but will be much cheaper with their annual plans. Cheaper than its competitors!
There's a dilemma here. Should we pick the cheapest "monthly" plan or the cheapest "annual" plan?
And then there are providers with quarterly plans, semiannual plans, and as you go plans. And let's not forget providers whose plans paid monthly for a year are still cheaper than the annual plans of other providers. It's a mess.
We came to the conclusion that "cheapest" depends on your payment preference. When you have an annual corporate budget, "cheapest" means one thing, and if you're limited on a monthly budget – "cheapest" means another thing entirely.
It's why we decided to show you all the 1040 rank tracking plans in a separate "raw data" table, which you will find below. The calculator is only meant to help you find the cheapest SERP tracker easily, but do feel free to check all the rank trackers yourself.
Step 3: How the calculator works?
Given the above, we decided to go with annually. The cheapest provider is the one that needs the least amount of dollars over a year.
So here is how it all works.
We take your desired number of keywords & update frequency into account and select a list of providers that can accommodate the requirements.
From each selected provider we pick the cheapest accommodating solution.
We order providers by cheapest annually.


For monthly/annual plans – the math is really easy.

Things are a bit funnier with As You Go rank trackers. These are consumption-based rank trackers with prepaid credit packages, where "Credits Needed = Keywords x Frequency".


---

---

Actual Rank Tracking Cost = Amount of keyword checks x Cost per keyword check

---

---

So we need to compute how many keyword checks are required annually and what's the cost per keyword check.

But how do you compare Monthly plans with As You Go plans? Apples and Oranges, right? Turns out, it is possible to objectively compare them by the amount of Vitamin C.

So for each rank tracker in our list, we calculated how much a single keyword check costs, which also allowed us to show you the capacity at which you are using your current rank tracker and how much money you waste with them by underusing their monthly plan.

To illustrate this: if you track 500 keywords every week, you would roughly need to perform 500 * 52 = 26,000 keyword checks per annum.

If your current rank tracker costs $99 monthly and offers 1500 keywords monitored daily (1500 * 355 = 532,500 per annum) then your actual consumption is 4.88% (26,000/532,500 = 4.88), hence you lose $1,130 annually by underusing/underneeding what they offer.
Funny table. Complete list of plans & packages from all rank monitoring services.
SEOlium is the only rank tracker with on-demand updates and a non-expiring free trial
Here are the SEOlium key features:
99.7% Ranking Accuracy – we don't buy ranking data from 3rd party APIs
No Artificial Limitations – unlimited projects, competitors, reports, keyword groups/subgroups/locations
Usage-Based Pricing – no monthly plans that you constantly underuse
Does this sound interesting? Good, because that's not all! Our free trial doesn't last one month only. It expires after we've performed 5000 Google checks on your behalf! Depending on your needs (e.g. 50 keywords tracked monthly) – it may last for years!
Registration successful. Please check your email address.
Please provide your email address.