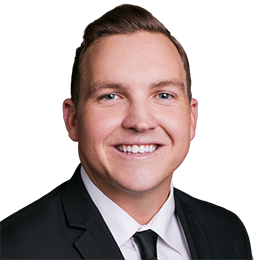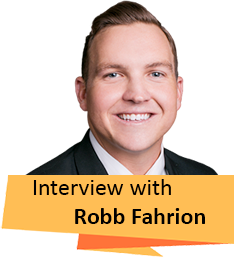 Interview with Robb Fahrion
Robb Fahrion is a co-founder and partner of Flying V Group.
Flying V Group is a digital marketing and advertising firm with offices located in Orange County, CA and Phoenix, AZ
. Robb founded the company in 2016 with his brother Tyler and the company has since gone on to service over 200+ clients and received numerous awards from companies like Clutch and Good Firms for their work in the marketing industry.
Robb previously worked as Director of Marketing for a tech startup focused on data security and encryption. Robb is a graduate of Chapman University in Orange, CA and currently serves as the Chief Marketing Officer for Seed Consulting Group and the Director of Marketing for the California Waste and Recycling Association. Robb enjoys writing about digital marketing and business, baseball, hanging out with his girlfriend Alexandra, and spending time with friends and family.
SEOlium:

Robb, how long have you been in the SEO and PPC marketing business and how did you end up doing this for a living? Can you describe your SEO and Google Ads expert career so far?

Robb Fahrion:

I started Flying V Group in 2016, but have worked in SEO and PPC marketing for about 7 years now. I am self-taught in terms of not having any formal education in the SEO and PPC fields. My role as Director of Marketing for a tech startup is where I really started to dive into the SEO/PPC space and fell in love with the data, analytics, and trends that are involved in this type of marketing.

The reason I started Flying V Group is because I saw a void of digital marketing in the professional services marketplace for industries like law, finance, insurance, and investments, and I still think there is a void. Many of our clients fall into these types of categories as professional service firms.

As of today, myself and my company manage over $3M in advertising spend for our clients over the course of four short years, and that number is quickly ramping up. In terms of SEO, we manage comprehensive SEO budgets ranging from $5,000/mo. upwards of $25,000/mo. depending on the scope of the projects. My career in this space has been an incredible journey. I absolutely love and relish the opportunity to work with many different individuals across many different verticals to help drive new business for their company.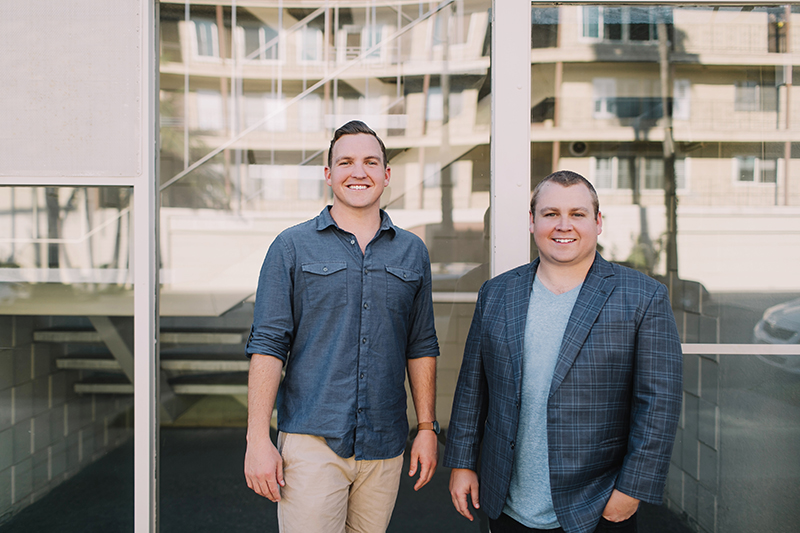 SEOlium:

What where the pillars of SEO when you just started and how have they changed over time? And what about Google AdWords/Google Ads?

Robb Fahrion:

Early on in my career you could get away with a lot of black hat or grey hat SEO techniques in terms of keyword stuffing or the creation of a network of PBN's. Now, with the improvement of search engines, those types of techniques have gone by the wayside. The benefit of providing valuable content that answers users specific search queries is very real and one of the most effective strategies. Also, as search engines improve, the importance of having a well configured website from a technical SEO standpoint is even more crucial. Without a strong web foundation with optimized pages, you are dead in the water.

In regards to PPC, the changes have been very technical and scientific in nature. What I mean by that is you must build out accounts that are technically sound from beginning to end. Keywords must align with ads and ad groups which must align with landing pages and the experience users are delivered on those landing pages. Also, the game has become much more competitive. We must be so much more creative when we strategize on keyword targeting, account segmentation, and bidding strategies. Before, we could set things and forget it for some industries, but now, we must make daily, micro type changes in order to see long term macro results.
SEOlium:

Do you personally prefer to get busy with getting organic or paid traffic?

Robb Fahrion:

I really do not have a preference since they both serve different purposes. Organic traffic is a long term play, so it really depends on what the goals and needs are of the organization at that specific time. If we need traffic tomorrow, then a paid traffic strategy is going to serve that purpose.

I've always maintained, and I still do today, that generating organic traffic over time is one of the best investments you can make into your business and that is how we grew Flying V Group into the company it is today. SEO and organic traffic offer compounding results where the percentage increases month-over-month start to get bigger and bigger as traffic levels start to increase.

With paid traffic, there is more control though. We know where the ads are going to display, who is going to see them, and the results that they will generate. With this information we can then start to optimize and make adjustments to get the account performing at the desired levels. Sometimes this happens very quickly, but other times it is a constant cat and mouse game with visitors and other competitors in the space. The paid traffic game is a higher stakes game, which definitely gets my competitive juices flowing!
SEOlium:

If you had to define SEO for someone that knows nothing about it, what would you tell them?

Robb Fahrion:

This is a great question and there is a simple answer that I use for a lot of my clients that have no clue (nor do they care) what SEO is because all they want is their phone to ring.

Search Engine Optimization is the process of helping Google understand what you are good at or what you do. That's it.
SEOlium:

Why is PPC account optimization important? Can't Google do it on autopilot?

Robb Fahrion:

I always use this analogy: think of a Formula 1 race car and how those Formula 1 teams operate. The teams configure the car to the best of their abilities with educated decisions based off of what they know, but until they run the car on the track, they really know nothing. There are so many variables that come into play as well: track conditions, competition, weather, regulations, etc. So, what do they do? They practice by driving the car on the track. After practice, they bring the car back in, analyze the data, make adjustments to the car, and then run the car again in hopes of improved times. This is EXACTLY what we are doing with PPC account optimization.

People often ask, "Why can't Google do this on autopilot?"

The answer is simple, Google knows nothing about Formula 1 racing in the same way Google knows nothing about my client's business, his competitors, what products are and are not profitable, and what he needs to break even or make money when considering all the costs that go into generating business. Is there a place for automation? Of course, but we still need human expertise more than ever to help guide that automation. I see automation as being most beneficial for helping sort through data, identify trends, and helping to point out anomalies or "potential" opportunities that exist in the space.
SEOlium:

And what if someone just builds a perfectly optimized Google Ads account and forgets? Is this a feasible business growth scenario?

Robb Fahrion:

A perfectly optimized Google Ad account only exists if there are no external forces being applied to it, which means, there are no perfectly optimized Google Ad accounts. As we get new data in, there are always ways to improve the accounts and the Google automation is by no means perfect. I do not believe that this is a feasible business growth scenario because eventually there will be competitors that enter into the space and begin to do things better than a stale account.

We can strive for perfection, but the ability to actually achieve perfection is extremely questionable. Sometimes Google will push that their platforms can handle everything for you with their "Smart Campaigns", which can be very dangerous and a way for business to lose A LOT of money because they do not have someone watching their account 24/7/365.

One quick example is a medical device company that we were working with to optimize Google Ad accounts. This company sells high-end ultrasound machines and their account was being managed by a "Google Ads Specialist". After just a ten-minute review, we identified that they spent over $50,000 in one year on keywords with the search intent of finding a doctor that could perform ultrasounds, which is a far cry from someone looking to buy an ultrasound machine. This example is just one of countless we have come across in which customers were literally throwing away money at "optimized" Google Ad accounts.
SEOlium:

What can someone do about fraudulent Google Ads clicks and angry competitors?

Robb Fahrion:

We install fraudulent click tracking on all of our accounts to ensure that no funny business is happening with our clients' ad account and website. The threat of a competitor bidding on our client's name always exists, which is why we do everything in our power to protect our client's brand name and make sure that when someone is looking for our client they land on our client's website and not that of a competitor.

Competition is always going to exist in the online space, but the most important thing is to keep the focus on ourselves and what we can control. There is always going to be a competitor with a bigger budget and more resources, but that does not mean that we cannot still be competitive. We might just need to get more creative with our clients and identify better ways for us to capture market share and visibility through strategic configuration and optimization of the ad account.
SEOlium:

Are you also an expert in Bing Ads? Could you explain the biggest differences between the two platforms?

Robb Fahrion:

Yes, we are also experts in Bing Ads and feel that they still provide a valuable platform especially since most Windows computer come preconfigured with Bing as the default search engine. Google is still the more powerful platform and their reporting/ad accounts are much more robust and comprehensive, but we still find some good value on Bing.

The biggest difference is that Bing tends to be less competitive, but there is also much less opportunity and reach that exists on the Bing network. Sometimes we find that demographics play a role in the type of platform we recommend (99% of the time it is Google first and Bing as an alternative/add-on) because Bing has an older demographic that tends to use the search engine. With that being said, it might make sense for us to allocate some budget to the Bing platform knowing that we have more of our target demographic using the search engine and the traffic is generally less competitive to acquire.

There are also minor differences in the capabilities of the platforms. Google Ads continues to be the industry leader and widens the gap in terms of capabilities on a daily basis.
SEOlium:

Do you think Google and Bing will ever only serve ads as their search results?

Robb Fahrion:

No. Or at least I like to believe that they will not in a perfect world. While ads have continued to eat up more and more real estate on SERP's, we still must remember what the number one purpose of these search engines is and that is to provide answers to users' queries. Sometimes, ads do this perfectly, but many times they do not and it is the organic results that provide the true value in a SERP.

I would be disappointed in each of these platforms if they went to a paid only search result model because I think it eliminates the soul purpose of the search engine to begin with. Those that are ranking in organic positions #1-10 and so on provide the best results for the query more often that not. That's not to say that paid results do not, but sometimes we get advertisements that should never be there in the first place delivered to users that are looking for completely different answers. This does not happen with organic results because Google's organic search engine algorithms and machine learning is so strong.
SEOlium:

Since Google Ads can be such an expensive marketing channel – could you try to describe a perfect account optimization recipe for a simple business?

Robb Fahrion:

Of course. Let's use my own business as an example. The key is in the account segmentation. We want to segment accounts based on the types of services that are provided. So, for us, we would want ad groups that include website design, SEO, PPC, and social media (just to keep it simple). Then, we will want to create ads for each of these specific types of services and we want to direct this ad traffic to a very particular landing page that speaks to the benefits that our company can provide for someone looking for this type of service.

For example, for someone that is looking for website development, we don't want to be pitching them on social media marketing because we are putting the cart before the horse. Serve them with an ad that talks about their pain points and then a landing page that further defines the value you can provide to their website development needs.

Another important thing is to keep the account structure and landing page simple. Make it very easy for the user to get the type of information they are looking to find from your organization. Be sure to utilize the additional features within the ad account like site and location extensions and structure snippets. Also, be sure to install conversion tracking so that you know what is working and what is not. Then, pour over the data. See what type of users are coming to your site (demographics) and from where (locations) and then start to make adjustments in the account and see how the adjustments work.

There is always going to be trial and error in these accounts, even for experts. What matters is that we are able to analyze and learn from the information in order to make better decisions and avoid making the same mistake twice.
SEOlium:

Robb, have you tested our Google Rank Tracker tool (www.seolium.com)? What did you think? :)

Robb Fahrion:

Yes, I have and it is an incredible tool that I highly recommend everyone tries. The dashboard is super simple and straightforward and provides me with the exact type of information I need, right at my fingertips. My favorite feature is the market share reporting and I love the fact that the pricing model is based off of consumption so that I am not constantly wasting a monthly subscription. I think every expert SEO and PPC professional should be using SEOlium's Google Rank Tracker and have it in their toolbox.