10 Most Popular Website Analysis Tools

If you're someone who is creating and managing your very own WordPress website, there's a high chance that you will be experiencing various issues that will be influencing your SEO.

So, if you're aiming to increase the amount of traffic you are attracting, it's absolutely critical that you pay attention to what can be optimized for your benefit. But this can be quite a slow and frustrating process if you don't know what to look out for.

Luckily, there are numerous website analysis tools on the market that can help you. They can create a report detailing the aspects of your website that need improving and optimizing. To help you with finding the right one for you, we've created a list of the 10 most popular WordPress website analysis tools of 2020, along with a cheeky bonus at the end.
What Are Website Analysis Tools?
You can think of a website analysis tool as an audit for your website. The goal of the analysis is to examine your website, find issues and problems that can be fixed, and then suggest solutions to fix said issues.
Generally, most website analysis tools will first crawl through each web page on your site to give an overall score and then display a number indicating the number of problems that the tool found. The individual issues that need to be addressed will then be displayed further down the report, however, the level of detail provided in these reports will vary depending on the website analysis tool you use.
Having said that, let's explore the best website analysis tools available to you today!
1. SEMrush
You've probably heard of this name before. SEMrush is one of the most recognizable tools on the market and its analysis covers all things SEO. It can analyze over 130 different aspects of your website, giving you a thorough report. Examples of this include your web page's loading speed, content or meta tag issues, CSS errors, and issues regarding crawling.
Moreover, the tool will offer you thematic reports for the performance of your website, International SEO, and the ability to track your progress whilst also automating your reports and prioritizing the issues that will provide you with the most value. However, if you want to prioritize certain issues yourself, this is also possible. Better yet, you can even connect it with Google Analytics.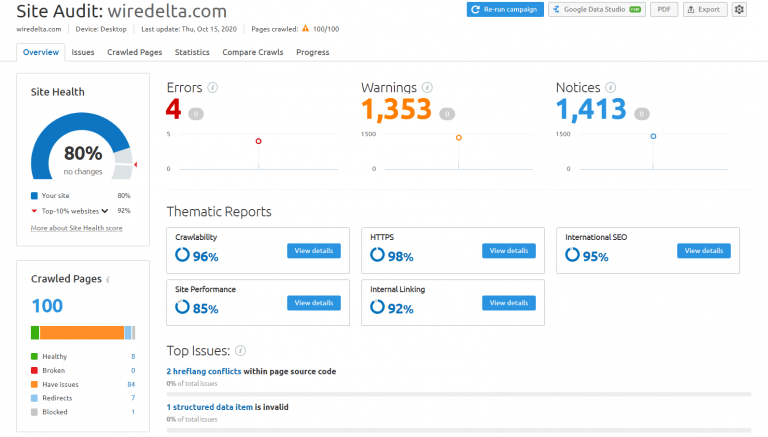 You can try-before-you-buy and have a free audit of 100 pages at your disposal using all of SEMrush's main features.
2. Ahrefs
Ahrefs is one of the most-trusted tools. It is renowned for its user-friendliness and attention to detail. Ahrefs will analyze your website for more than 100 SEO issues and will automatically categorize them for you.
You have the ability to choose details about specific items such as HTML, incoming and outgoing links, performance, content quality, and much more. Some other possibilities Ahrefs gives you is being able to filter and sort the data in a way that suits you, execute JavaScript, track progress, and even analyze the mobile-version of your site.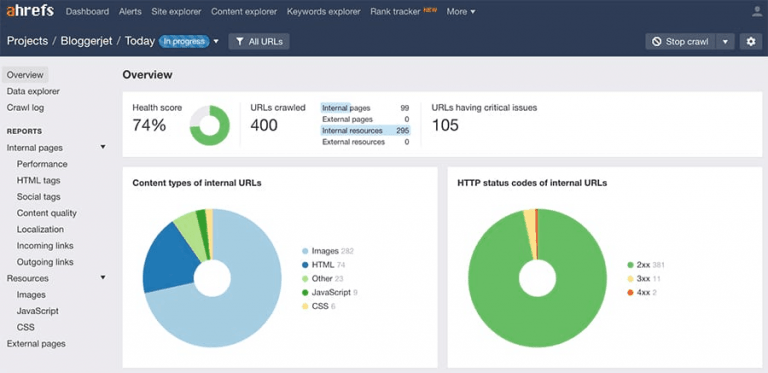 For a 7-day trial of all of its features, it will cost you $7. Or if you want to jump straight in, monthly subscriptions start at $99.
3. Moz
Moz is an all-in-one high-quality website analysis tool that is ideal for managing your WordPress website. It has rapid crawling and keeps track of new, existing, and recurring issues. These issues are all displayed in a user-friendly manner with charts and categories which help you distinguish which problems are a priority for you. A thorough explanation, the potential impact, and the aptest solution for each issue will be in your report.
Once you have managed these problems, Moz will do you a favor and automatically crawl your website every week to see if these issues have been fixed for good. If something requires your attention, you will immediately be notified. As with Ahrefs, Moz will analyze your desktop and mobile WordPress website.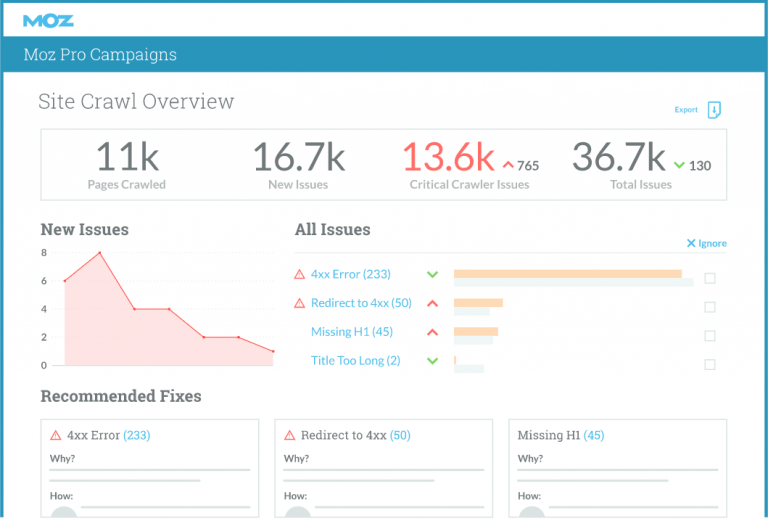 The added benefit of Moz is that it comes with a 30-day free trial, after which monthly subscriptions start at $99.
4. Neil Patel SEO Analyzer/Ubersuggest
Neil Patel's SEO Analyzer, more commonly known as Ubersuggest, is one of the more affordable options from this list. By simply entering your WordPress website domain, you will get a free basic report. Information about your SEO score will be given, the amount of organic monthly traffic you're attracting, and the overall health of your website. By checking individual pages, loading speeds, and backlinks, you will be provided with a simple list of issues to fix.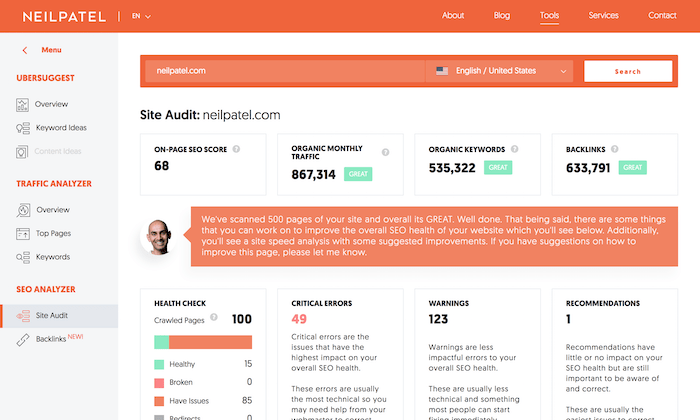 If you want a more in-depth report where the tool will crawl each page, you will have to upgrade. Luckily for you, Ubersuggest is considerably cheaper than the other tools. Better yet, you can try it for free for 7 days, or buy a plan and get a 30-day money-back guarantee.
5. Google Search Console
Google Search Console is a free website analysis tool that also comes in the form of a plugin for your WordPress website directly. Even though it's free, this tool offers incredibly valuable data.
Although it's main role is to measure your website traffic and overall performance, it also provides you with solutions to identify and fix various website issues. If you aim to rank higher on Google Search results, this tool is for you. Since it is made by Google, it is reliable in determining if Google can effectively crawl through your web pages or not. The only con with Google Search Console is – you can't check your competitors' Google rankings. For that –
use a professional Google rank tracker
.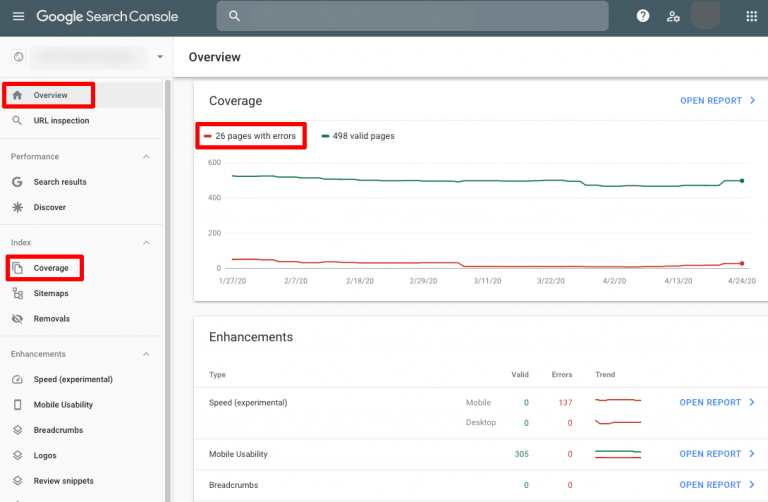 Additionally, it will monitor the status of your page index and will inform you if it detects incoming spam and/or other issues. By clicking on the Optimization tab, you can even organize the data and optimize for HTML, such as meta descriptions, headers, etc. But more importantly, Google's Search Console will send you alerts when a page is improperly (or worse not at all) indexed.
This tool is unique and offers something that the other tools can't, thus making it a valuable choice for your website.
6. Alexa's Site Audit Tool
This tool is great for increasing the search visibility of your website. Alexa's Site Audit tool provides you with regular On-page SEO, security issues, crawl error, and speed analysis reports. Once it runs its analysis on your website, you will get an overview of all the possible areas that your website needs fixing, and an action plan on how to go about doing this.
Additionally, you can obtain reports that only contain issues that you would like to prioritize, whilst also tracking the progress your website is making.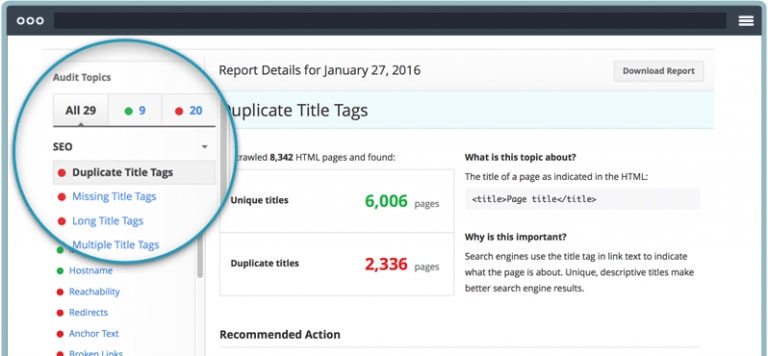 This tool is one of the priciest on this list, however. For this tool, a 14-day free trial is available, after which you will have to pay $149/month. It should be noted that with this plan, you can only scan one website.
7. Screaming Frog SEO Spider Tool
Screaming Frog SEO Spider Tool is a great website crawler. It will drastically improve the SEO of your website by extracting data and looking for common SEO issues that you can address. Other main features include:
Finding redirects, errors, and broken links.
Discovering duplicate content
Analyzing Meta Data, Titles, and Pages
Generating Sitemaps
Visualization of your website
Reviewing Directives and Meta Robots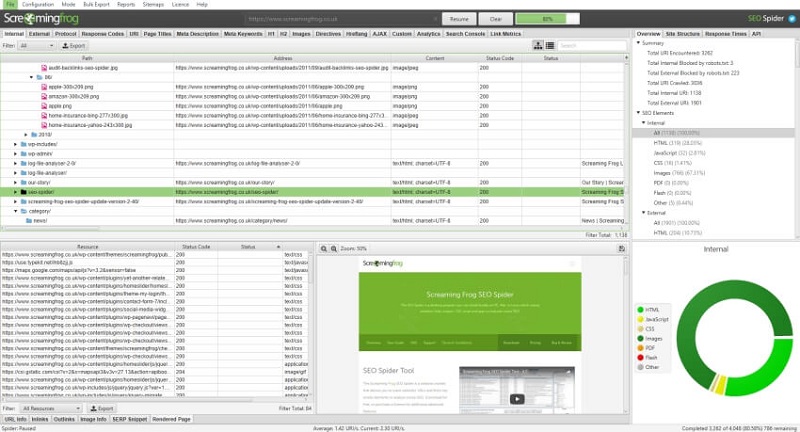 You can find these features in the free version of the tool too, however, there is a crawl limit of 500 URL pages. But, by purchasing the annual license which costs $149.00, you will be granted unlimited crawling and additional features such as JavaScript rendering, scheduling, and crawl configuration. On top of that, you will have the ability to integrate this data with tools from Google such as PageSpeed Insights, Google Analytics, and Google Search Console.
8. Google PageSpeed Insights
Google PageSpeed Insights is yet another tool provided by Google for free. This tool is solely focused on improving your search ranking by analyzing and fixing SEO issues relating to the speed of your webpages. It does this by specifically analyzing issues that affect user experience. If your website is performing badly which in turn is negatively affecting your website traffic, then this tool will help fix those issues.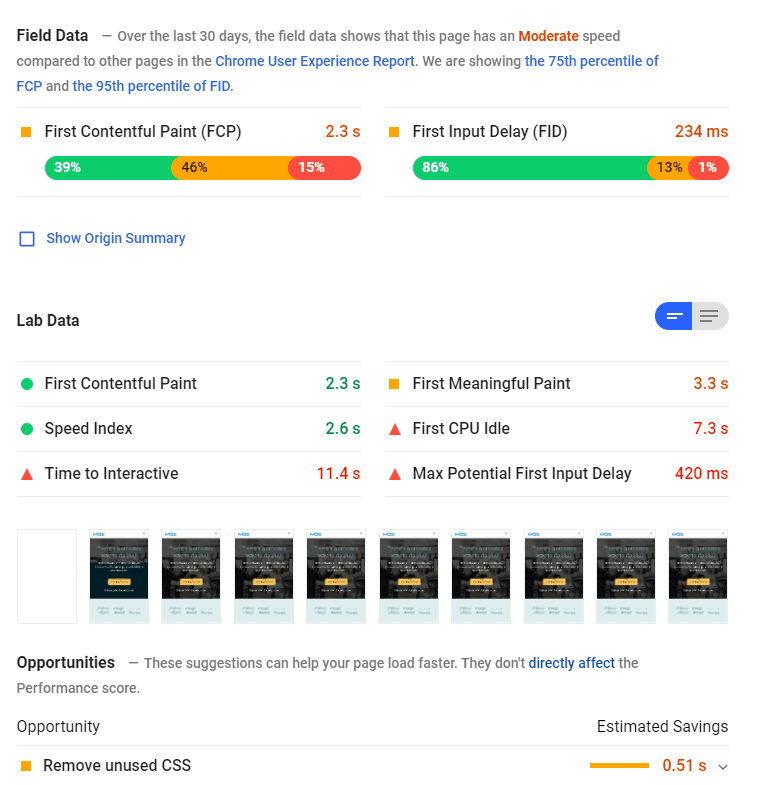 9. GTmetrix
The primary focus of this website analysis tool is performance, and how the performance of your website will affect user experience. The first thing you'll notice once it analyzes your website is the performance score. This score is based on your PageSpeed score and Yslow score, both of which have high standards in terms of determining a high-performance website.
Both of these scores will also come with an explanation of issues that need to be addressed to perform better and will rank them by priority for you. Besides this score, you will get some page details that enable you to assess how relative your page loading time is to the number of requests it gets, and the total page size.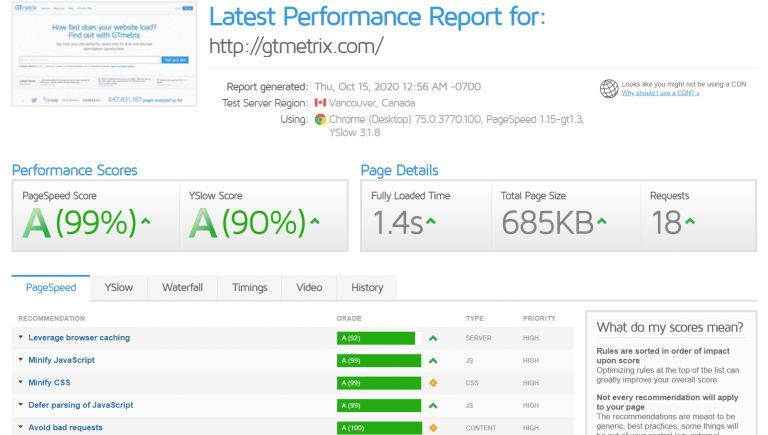 GTMetrix has a free version that allows you to monitor a maximum of 3 URLs, but it has limited features. However, it does come with a paid subscription for the full features which starts at $14.95/month.
10. Seomator
This is a simple, sleek, and easy-to-use tool that will provide you with everything you need to
improve the SEO of your WordPress website
. Its analysis report will show you everything regarding issues found within 10 separate categories. These are as follows:
Content Quality
Crawler Report
HTML Tags
Structured Data
Social Media
Page Speed
Internal Links
Multilingual Support
Mobile Usability
Backlinks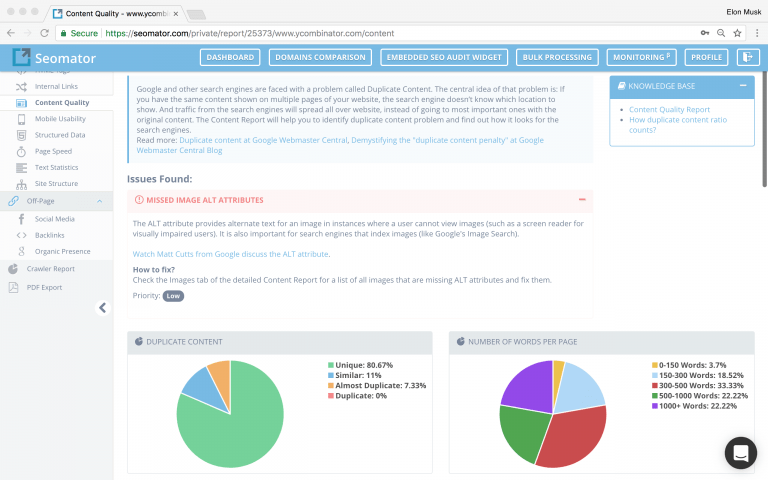 The extensive and detailed list in the report that Seomator provides you, makes it one of the most effective website analysis tools available on the market. If money is a factor in determining which tool you choose, Seomator has a wide variety of payment plans, starting at a one-time payment of $5.
Bonus: Wiredelta App
We've saved the best till last:
Wiredelta App
. Not only will it tell you what you're doing well, but Wiredelta's App will also provide you with a structured, thorough, and extensive list of issues that your website needs improving, starting with Top 3 Suggestions. The tool lays out all of the metrics that are used in determining your website score and also explains what each metric means in case you are unsure.
Wiredelta's App will also enable you to compare various websites with each other and examine a website's performance against industry standards so you know where it stands amongst its competition.
To clearly display the report in a user-friendly fashion, the metrics and individual measures are classified under 6 separate categories:
Mobile
Usability
Technologies
Performance
Visitors
Search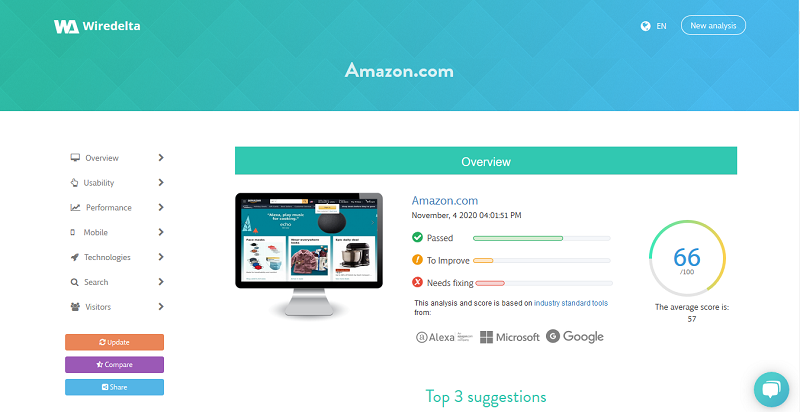 Wiredelta also provides great customer service, so don't forget to get in contact with them if you need some assistance!
Conclusion
Websites are very much like plants, in that they need constant attention and care if they are to thrive. So, doing a frequent analysis of your WordPress website is a crucial component to SEO and improving your website performance as a whole.
There are many tools out there to analyze how well your website is doing, with some focusing their attention on certain metrics, whereas others focus on analyzing your website as a whole.
If you're a marketing agency that needs to combine their client's website analytics with all of your other campaign data to streamline client reporting,
AgencyAnalytics
integrates over 70 marketing platforms into one streamlined reporting dashboard, including Google Analytics, Google Seach Console, Moz, Ahrefs, and SEMrush mentioned above alongside Google Ads, Facebook Ads, and many more.
The best website analysis tool for you depends on your needs, and only you know that. But we hope this list has helped you in making your decision. Best of luck!