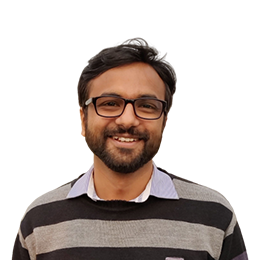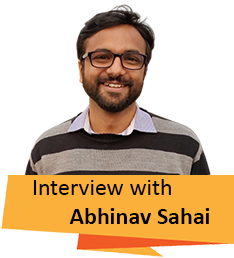 Account-Based Marketing Done Right
Abhinav is the cofounder of
Niswey
, an Inbound Marketing and Account-Based Marketing services. He has twelve years of experience, 9+ of which are in running the agency, Niswey. He has worked with organizations in various industries including media, hospitality, technology, education, social sector, e-commerce, SaaS, etc, primarily helping them with their digital marketing efforts.
Abhinav has received media coverage on BBC (UK), The Week, Careers360, The Telegraph among others. He is a speaker on topics related to Digital Marketing and Entrepreneurship. In his free time, he mentors aspiring (and young) entrepreneurs and volunteers for BharatShikshaa, an NGO which provides free education to underprivileged children.
SEOlium:

Abhinav, thank you for doing this! Let's start with what ABM (account-based marketing) is and how it's different from traditional marketing?

Abhinav Sahai:

So, account-based marketing is essentially going after a list of accounts that you want to target, nurturing them and getting them to become your customers and then advocates. Essentially, it's about choosing a list of companies that, in an ideal world, you would like to be your customers. ABM also involves a deep level of research, not just for your target accounts, but also with respect to the people. Traditional marketing doesn't work this way, you'd reach out to a large audience at the probable right places, expecting to get leads from there, and eventually converting them to customers. So, while they may seem to be quite opposites, they are quite complementary when done well, and together. Both have their own set of advantages, so what marketing strategy works for you really depends on your business needs!
SEOlium:

Is this just another name for marketing tailored around big-names?

Abhinav Sahai:

Not really. Account-based marketing is an extremely personalized form of marketing to your high-value accounts. I agree sales reps have been researching and targeting big named accounts. but, since it hasn't been a scalable approach is probably not as popular. Now, with the power of marketing technology, ABM is a completely new sphere altogether. It changes the whole game!
SEOlium:

Can you share a few examples of ABM campaigns that had outstanding results?

Abhinav Sahai:

Sure. I will take the example of one of our clients, Srijan Technologies, a global IT services company, for whom we helped build an ABM culture right from the ground up. That includes doing – accounts identification, persona mapping,

content strategy

& distribution, reporting as well as ensuring a close alignment between the marketing and sales teams. The gains were tremendous! It led to:
55% rise in the unique accounts reached
45% unique accounts continuing to engage
75% of accounts engaging with long-form content
Srijan even went on to win an ABMies award nomination, thanks to this approach! You can find the
complete ROI story here
.
SEOlium:

Abhinav, can you describe a perfect ABM team? Which roles and responsibilities are required to achieve success? What team members are optional but nice to have?

Abhinav Sahai:

Doing account-based marketing needs you to foster alignment between your sales and marketing teams – so, key personnel in these two teams are really a must have. So, you will, at the very least, need:
Executive Sponsor: To offer support and strategic guidance, across sales, support & services. Someone who also brings in alignment between the sales and the marketing teams.
Sales Head: To keep the team updated on the happenings with accounts.
Sales Operations: To keep the CRM updated and ensure all sales processes are being adhered to.
Marketing Head: To drive your entire ABM strategy, right from creation to execution.
Marketing Operations – people good with:

Research
Content writing/marketing
Advertising
Marketing automation
Analytics
Graphic design
Having more team members like sales development leader, services heads and solution consultants are definitely nice to have. But you may be able to do without them. What you can't do without is the ability to think personalization and scale at the same time.
SEOlium:

What challenges tied to account-based marketing do you see most often and how can you address them?

Abhinav Sahai:

Most commonly we find businesses struggle with ensuring a sales and marketing alignment. This has been the biggest challenge, year on year. Secondly, delivering personalized user experience. Here's what we usually do for our clients:
Sales and marketing alignment – We first sit with both the teams to figure out their goals, often that itself shows how misaligned they are. Then we work towards building a common goal, and the KPIs and metrics to track them. Having both teams work together, ensuring regular catch-ups is very important to ensure ABM success. Marketing teams can analyze which accounts are engaging with the brand and are sales qualified, and communicate to sales teams on which accounts to prioritize. Sales teams, keep providing constant feedback and inputs on what is working well and what's not so that marketing teams keep optimizing their campaigns. Whatever said and done, this still remains a challenge to solve.
Personalized user experience – This is a major challenge because often businesses know which accounts to go after but not the right people who should be targeted. Hence finding out what content to deliver to them, is often a challenging task. As a result, the desired experience is not delivered. To deal with this, we often work on each account and person in detail, analyzing their personas, pain points, challenges and much more. And based on that, we build distinctive and relevant messages that centre around the solutions to their problems.
SEOlium:

Often, the biggest problem people who target large companies face is getting through to decision-makers. What advice do you have for them? How should one get in contact with people responsible for buying decisions? Remember, we only need the good stuff here ☺ What has worked for you? What secret techniques/tricks do you use?

Abhinav Sahai:

Well, that is the problem with the perception of ABM. What you are looking for, is to connect with the right person and to sell to them. ABM is not about selling upfront. That's the job of the salesperson. ABM is about building relationships, by creating value for your prospects, in each interaction. And when the right time comes, they will themselves buy from you. The higher the person in the decision-making ladder, the more value you have to create for them. Now you may ask but how do you do that? You have to do deep research into the people you are targeting, social media profiles tell a lot. But go beyond the obvious, LinkedIn. Only then you can take a tailored marketing approach, that is not only personal but also creates value for your target audience. If you are genuinely creating value, you will eventually build a genuine relationship, either personally or with your brand and your target persona. Most people make the mistake there – the moment a LinkedIn request is accepted, they send over a sales pitch. But what if the other person just created value for you from the very first interaction? Wouldn't you like that?

In ABM you're likely looking at a buying committee, and hence multiple decision-makers and influencers from various departments. You can't have the same message for all of them; their challenges are completely different. So, you have to truly understand how each influencer or decision-maker is likely viewing the problem, and then tailor the approach to that.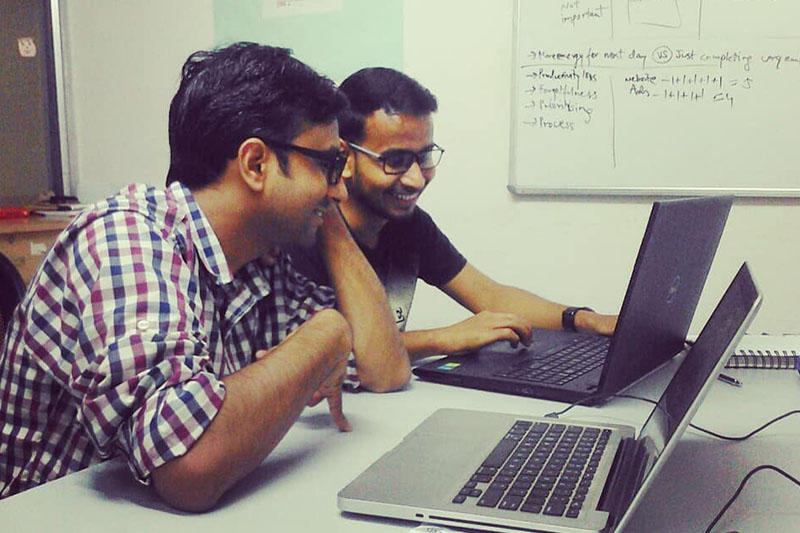 SEOlium:

It looks like Account-Based Marketing isn't very scalable. It requires a lot of resources and there's also the risk factor. How do you tackle these problems? When should people go with the broad marketing campaigns and when should they choose ABM?

Abhinav Sahai:

Yes, I agree it is an intensive exercise and requires a lot of resources, which is why the belief that ABM isn't very scalable. Using technology can help scale large aspects of your ABM process. Be it accounts selection or the entire ABM approach. You can use marketing technology and data science to identify and expand account information. This will greatly reduce the manual aspects and make accounts selection process more scalable. What is required though is an integration of the tools you are choosing. If the tools don't talk to each other, then it increases your work.
---
---
With the complete ABM approach, you can first identify the best approach that works for your business, and then deploy technology to repeat your process. We usually start with a one:many approach. That way, we can go wide and then slowly keep narrowing our focus towards the accounts that show interest. This is when the research starts – which is the resource-intensive part. But by the time we have focused, and so the campaign has become one:few or one:one. So, it's not as intensive as one would imagine. Of course, unique account engagement is still important, but a balanced approach is what will help you scale as well as optimize the use of resources.
---
---
Unless you are marketing for Coke, any form of marketing has a risk factor attached to it :) Who knows, maybe even Coke has risk factors :-) All we have to ensure is that we are mitigating the risks at each step. This is mostly done through research and data. The biggest risk is spending too much money on accounts that were not the right fit. So, research comes into play. Once you have started the campaigns, then a weekly look at the data will keep giving you what you need to know, in order to keep avoiding the spends. And thus, reduce the risks.

As for when to go with ABM vs broad marketing campaigns, ABM is not for businesses going after a wide market. It can only work with a limited set of accounts, usually a few hundreds. And yes, it's much more expensive, with all the money and manpower requirements to reach the conversion goals. So, if your business has resources to work towards a full-fledged ABM campaign, go ahead with it! And I can promise you, the gains, when converted, are tremendous!
SEOlium:

Abhinav, how can you reduce costs or make it just a bit more scalable without hiring an entire country?

Abhinav Sahai:

Marketing tools again. As I mentioned, what can be automated in the accounts selection or ABM approach, should be. This will hugely reduce the manual efforts required by the team. You can use the likes of HubSpot or Marketo to enable these essential ABM features for your list of accounts:
Run nurturing workflows and targeted ads. You can integrate apps that enable enrichment of your account data.
Conduct company-wise scoring and not just contact-based scoring. And you can have negative and positive parameters as well.
Have ABM playbooks, ABM sales templates and sequences for the sales teams.
ABM reporting and ABM dashboards to keep everything in track.
All of this is available on the tools I mentioned. So, marketing technology is really the answer. In some cases, where it feels like you need to hire a country, we build our own bots :-)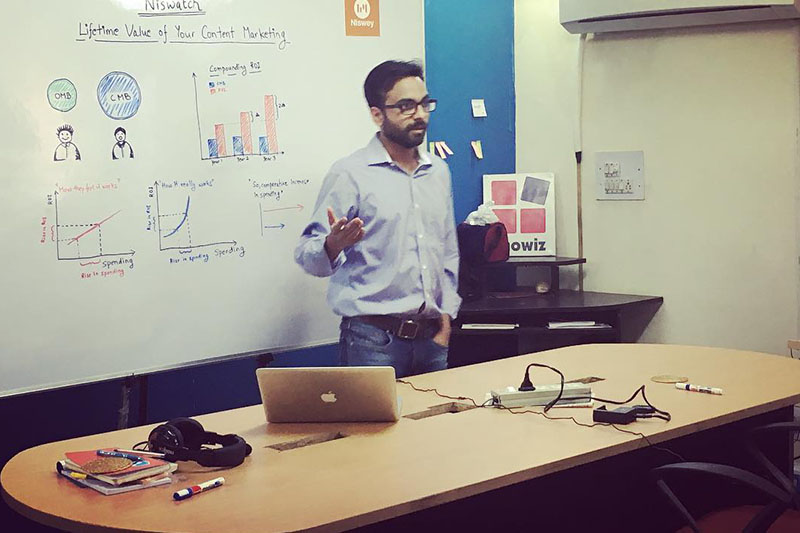 SEOlium:

How should a company choose the accounts they want to work with? This probably depends on the business model, but are there any guidelines on which minimum requirements accounts should meet in order to qualify?

Abhinav Sahai:

Sure, like you said it depends on the business. Of course, B2B is the only space where you should be applying this, but let's see how to approach this. To begin with, businesses need to understand what they are looking for. This can be understood by answering two questions:
Who are your most successful customers?
In a perfect world, which companies would you like to turn into your customers?
Make a list of these companies, their characteristics, and why you consider them as the best fit for your business. And compare them with the data of your most successful customers. What characteristics do they have in common?
Look at their industry, company size, annual revenue, budget, the technology they use and the problems you could solve for them. This will give you an idea of the kind of customers you would love to have for your business. And based on that, create your ideal customer profile (ICP). This then becomes the criteria for any account to qualify in order to meet your target accounts list!
Having said all that, there are two more things that one needs to keep in mind. First, your budgets vs the LifeTime Value (LTV) of your customer. The second is your average sales cycle. If you plan to spend $100,000 on ABM. And your LTV is $10,000, then of course, And if your sales cycle is 3 to 6 months, then it is not a fit. Because to show marketing ROI, you will need to close at least $1M in sales in the first year itself. But if your sales cycle could take up to 6 months, there is no way you can close 100 deals in the first year. These are just random numbers, but I am sure you get the point. So, you need to do some of those calculations, before deciding to do ABM.
SEOlium:

Aside from SaaS and IT companies, what other types of businesses can benefit from ABM?

Abhinav Sahai:

ABM essentially works for B2B companies as it can address only a limited set of accounts. So any B2B company which
has a long sales cycle,
has large deal sizes and high LTV,
plans to go after their set of target accounts,
has enough resources to run effective ABM campaigns, and
can cope through with minimum 6 months of conversion cycle,
can benefit from account-based marketing strategy. We are seeing Manufacturing companies implement it. Architecture firms deploy it. So essentially anyone, who fit those parameters.
SEOlium:

SEOlium is a SaaS type of business. We can help anyone (including very large companies such as Airbnb, Expedia, eBay, Amazon, or GoDaddy) with a website by monitoring their Google rankings and extracting valuable insights. What advice do you have for us if we were going to switch to ABM? By the way, I tagged them hoping they would read this interview and reach out for a proposal! = )

Abhinav Sahai:

Whether it is the right fit for you or not, I can't say from the outside. Apart from the factors and the math that I shared above, another thing you may want to look at is what stage is your business in? If you need to close a few deals quickly, then ABM will not work for you. When you're looking at ABM, you need to build an at least 2-year horizon. And from the day you start, first 3-6 months, don't expect any deals to close. If that happens, you're lucky :-)

If you were to go for it, you could start with the list of accounts. An Amazon or a GoDaddy might not be the right fit for you, as they may have their own tools. But to find that out, you will have to do the research. If you have the resources to do that kind of research, go for it. Start with research to build a good target account list. And then start with content, campaigns etc. is what I would say.