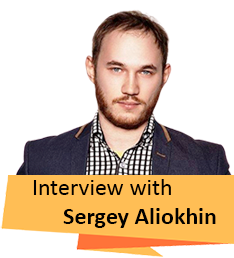 SaaS SEO and Link-Building – an Interview with Sergey Aliokhin
SEOlium:

Sergey, thank you for this interview. Let's start with your background. Where did you start and how did you end up doing what you do?

Sergey Aliokhin:

First of all, I don't consider myself an SEO professional. I do marketing where SEO is a part of the entire process. Therefore, I am not an SEO geek who is aware of every aspect of search engine optimization :)

I started my marketing journey back in 2016. I didn't know anything neither on marketing, nor SEO. I had about 5 months of "test period" doing some tiny tasks for Ahrefs right after my full-time job hours. It was a pretty tough time for me but I knew that I must push the limits and get to the business for sure. Thanks to my persistence and content writing skills I got a position at Ahrefs.

At Ahrefs I have learned lots of things related to marketing. My primary task was to build links via guest posting. During writing lots of articles on SEO and marketing I started to understand these things far better.

Afterwards, I decided to move forward and try myself by doing content writing and link-building for other companies.
SEOlium:

We keep hearing the term "Growth Hacker". Do you consider yourself as one? Can you tell me what a SaaS marketing manager does for a living?

Sergey Aliokhin:

No, I don't consider myself as a "Growth Hacker". I keep on learning marketing each day and I don't feel that I can create miracles in terms of SEO/marketing. Now I am working with a

SaaS company that offers software for coworking spaces all around the world

. My position embraces all aspects of marketing that help push the business forward. In my free time, I do link-building for other different companies as a freelancer.
SEOlium:

Are SaaS websites different from other websites? What success/failure metrics are helpful and how do you setup and track those?

Sergey Aliokhin:

Yes, SaaS websites stand out from other websites (eCommerce ones, for example). But those SaaS websites that I've seen, have almost the same structure – main page, features(solutions) landing pages, pricing page, and blog. However, if you want to offer something special for the market, you must work on your branding.

The metrics that I keep on track are our target keyword positions, backlinks, traffic, and conversions. I use Google Analytics and Ahrefs mostly.
SEOlium:

Let's talk about building links for a second. How is link-building for a SaaS company different from link-building for other types of businesses?

Sergey Aliokhin:

When I joined

andcards

and research our main competitors in terms of their link-building activity, I noticed that they don't pay lots of attention to this aspect of SEO. They are pioneers in the market and gets leads via social media channels and word-of-mouth. I realized that the only way to come to a level is by building a strong link-building profile. Thanks to this decision we could come into the spotlight and crash one of our competitors. Now, we are getting backlinks on auto-pilot but I still keep on gaining links as I used to.
SEOlium:

When you're building links – what metrics do you care about? Please describe a perfect link.

Sergey Aliokhin:

I pay attention to its type and a domain rating of the website I am going to acquire a backlink. An ideal link is "do follow" with DR60+.
SEOlium:

And can you make a list of link-building techniques that work really well for SaaS companies? Remember – we really need the gold here!

Sergey Aliokhin:

Guest blogging, broken link-building, outreach (link suggestions per content), and content collaboration.
SEOlium:

Sergey, what can SaaS companies do to reduce their dependence on Google? As a marketing manager you're interested in growth. What channels work really well in the SaaS space?

Sergey Aliokhin:

I, personally, rely on direct communication mostly. Especially, when you work with a startup product where it is important to increase brand awareness and stir up an interest in the service you offer. Hence, I spend lots of time emailing our potential customers trying to find a common ground and how our product can help solve their issues.
SEOlium:

How do you hire your staff? What qualities do you look for in a link-builder?

Sergey Aliokhin:

I do link-building by myself. However, if I need to hire someone for this position, I would ask to share the techniques preferred and the list of the resources this candidate could gain backlinks from.
SEOlium:

How many links are you happy with building in a month?

Sergey Aliokhin:

If we're talking about high-quality backlinks with DR60+, I would be satisfied with 5-8 per month.
SEOlium:

Do you ever pay for links?
SEOlium:

What do you think of nofollow links?

Sergey Aliokhin:

I believe that any website should have an organic backlink profile. Consequently, I don't think that "nofollow" links would hurt my link-building efforts dramatically. Nevertheless, my main priority is "dofollow" links for sure.
SEOlium:

Sergey, in a perfect world, in a world without guest posts and reciprocal links – what SEO signals would count most? If you were in charge of the secret formula – what would it be?

Sergey Aliokhin:

It is a very complicated question. I believe we would count on those SEO signals, that lead to conversions and sales. I don't believe in the "secret formula", I believe in hard work.