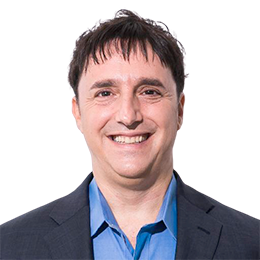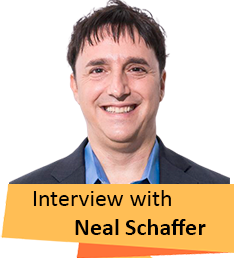 Social Media Marketing, with Neal Schaffer
Neal Schaffer is an international speaker, social media & digital marketing consultant, university instructor, and author.

Neal helps businesses on their digital transformation path through consulting, training, and helping enterprises large and small develop & execute on social media marketing strategy, influencer marketing, and social selling initiatives.

He often speaks on topics such as influencer marketing, social selling, digital transformation of sales and marketing, social media strategy, content marketing.
SEOlium:

Neal, you have a major in art history, right? Can you describe your journey from there to working with Fortune 500 clients on their Social Media presence?

Neal Schaffer:

So, my original major in college was art history. I ended up doing internships at a few museums during my freshman and sophomore years. And it wasn't until my junior year when I did a junior year abroad in Beijing, China. There, I witnessed the Tiananmen Square demonstrations. This was in 1989 when the whole world changed, and I realized I wanted to get into business. I wanted to have daily interactions with people and in my own way, contribute to world peace.

So fast forward to later on in my career where I was in between jobs in my native United States after living in Asia for 15 years. I decided that I wanted to get more active on LinkedIn, to try to build a network that would help me find my next job. After that process of getting more active in LinkedIn, becoming more of an expert, and connecting to more people, and blogging about the experience, I was successful at finding my job. Later, I was let go because of the economic crisis that hit the world Q4 of 2008, I ended up moving on from my blog by writing a book. This soon led to speaking opportunities, which led to opportunities as a

social media consultant

.

So, in January of 2010, that's when I launched my business centered around

social media marketing

consultancy and digital marketing consultancy. But I will say that it was my holistic business experience before then, working in sales, business development, and marketing in Asia for foreign companies that really gave me this unique perspective. This is the perspective in which I view social media, and sales, and marketing. That perspective has differentiated me in the market, but also helped me help businesses and help my audience.
SEOlium:

Is Social Media a good acquisition channel for any business? Can you explain and perhaps show a few examples of how it can help SaaS businesses?

Neal Schaffer:

Well, Let's put it this way. We're in the middle of the coronavirus pandemic. How are you going to get new business? It has to be digital. We're not meeting people face to face, right? So digitally, what can we do? Let's look at our digital marketing options:
We must have a website
We need to do SEO or PPC if we don't get good organic rankings
We should be doing email marketing/marketing automation
We need to be creating material to use for content marketing, lead generation assets. We need content for our website, for SEO. We need content for email. We need content for our social media. So, do content marketing and blogging.
And finally, we have social media marketing, both as organic and paid social.
So, those are the 5 main channels that we have. If you're not using social media, you're limiting yourself to search and email. The digital buyer, the digital consumer of today, if they're not searching, they're reading their email or they're in social media. So, if you just don't do the social part, you miss out on opportunities.
Now, social is not search, it's not email. Social brings people to your website and builds trust. Like appearing in the top of Google search results, social brings people to your website and builds trust. At the end of the day, you need to convert visitors in a funnel in which email marketing plays a really, really good role. So, I don't care what type of business you're in. A SaaS business should be seeding social media with content. Using social media to connect and attract your target customer to bring them to your website is a good acquisition channel for any business. And hopefully, that answer makes sense.
SEOlium:

What is your advice for building the right kind of audience in Social Media?

Neal Schaffer:

You are what you Tweet. If all you talk about is going out to parties and the different types of martinis you drink, and the different nightclubs in the city where you live, you're going to attract people that are into martinis, that are into partying, that are in the nightclubs, right? If all you talk about is your project management software, then you're going to attract people who are interested in project management software. So, if you want to build the right kind of audience, you need to have the right kind of branding and you need to have the right kind of content. And from that, the audience will come and you can accelerate that audience building through paid social. There, you can pick who you want to target and make sure you always have a relevant audience that's in your community.
SEOlium:

Neal, at your agency – what are the qualities you look for when hiring? What makes a perfect Social Media Manager?

Neal Schaffer:

At my agency, I hire experts in different things. I don't believe there's one overall expert in everything. So, I have someone who's really good at graphics. I have someone who is really good at content. I have someone that's really good at the technical aspects of WordPress. I have a podcast editor. I have a writer, right? So, I don't try to hire someone that does everything. I think in this amazing world we live in we can bring together experts in all these categories. Use collaboration tools online to build an agency that's bigger than any one person. But that's an expert in many things. So that's my own approach. Everyone's different, but that is the way that I would approach it if I was going to hire people for social media or digital marketing, whether for an agency or for a business.
SEOlium:

Can we talk about influencer marketing for a second? Tell our readers what that is and how it can help them get more business. I'm more interested in when it provides better results compared to other inbound channels and perhaps you could bring a few examples.

Neal Schaffer:

You absolutely can! So, I mentioned before that in digital marketing, you have five main channels. The problem with one of these channels (and remember we had search, email, and social), the problem with social is that it has become pay-to-play for businesses. It's become paid media. And the problem with paid media is that people distrust ads more and more. Right? Also, in order to do really well on social, you need to be a great storyteller. You need to be relatable as a person. You need to be able to master visual content like photos and videos and stories. That makes it very, very difficult for businesses, especially B2B businesses, on social media.

And what we forget is that there is another type of marketing that we can do in the digital world. And that is what I call influencer marketing. Now it's not just the Kim Kardashians, the other "2 million followers" celebrities. I'm talking about anyone in social media who ideally is a content creator and has a minimal community who participate in the influencer marketing industry. They define these people. It used to be a minimum of 10,000 followers. They now define these people as having at least 1000 followers. They call them

nano influencers

. The people with under 10,000 followers are called micro-influencers. So, if the minimum number of followers needed to have influence on any given social network is 1000, look around.

How many of your customers have a thousand followers on any given network? How many of your salespeople have a thousand connections on LinkedIn? How many of your employees are nano influencers? What about your partners? What about your fans on social media? What about the people that engage with you or that that talked about you on social media, even though they're not following your customers, but there's some sort of brand affinity? So, I say, instead of reaching out to celebrities, who've never heard of you, reach out to people that already know, like, and trust you, and leverage their voice. And in this way, you can incite word of mouth marketing and social media engagement. You can cut through the noise that if you're not doing that, you're just not going to get ahead on social media unless you're paying money. And once again, that comes with the caveat that people distrust ads more and more.
SEOlium:

Neal – I assume your business has also been affected by COVID-19. Is this true? How should companies deal with a similar crisis? And in a larger scope – can we talk about situational marketing and how it can also help businesses?

Neal Schaffer:

You know, my business has been positively affected by COVID-19. Now there have been negative aspects, because physical speaking events have decreased, obviously. But virtual speaking events have increased and the need for digital marketing know-how has only increased with the pandemic. So, I am as busy as ever.

You know, I do believe that I learned at an early stage in social media marketing that you always have to pivot. Entrepreneurs are really good at pivoting. The businesses that are pivoting are very entrepreneurial, and they're the successful ones. You need to find a way to pivot, to serve your customer. And that's the end-all.

I'll give an example: my brother is a winemaker. He makes a lot of money from his wine tasting room, which he can't open, but he's found a new market in companies that hire him to do a virtual wine tasting for their employees to keep the morale up when everyone's working from home. So, in crisis, there is an opportunity. I think every business has to figure out what that opportunity might be in this crisis and how they can pivot to best meet their customers' needs.
SEOlium:

Let's talk about your books. What made you write the ones you did and what changed in your life since you published them? What books are coming next?

Neal Schaffer:

So, the first book I wrote, which is called

Windmill Networking: Understanding, Leveraging, and Maximizing LinkedIn

was the very first book that launched my career in social media back in 2009. I wrote that book as a networking vehicle. I wanted to share my expertise as a way to connect with more people around the world. And with more connections, there are more opportunities and more potential. I was not doing social media for business. That is not a book about internet marketing. It's really a book about online networking and personal branding.

After I started my business in January 2010, when it came around to my next book, I wanted to write a business book. Because the deepest understanding of a network I had for business was LinkedIn at the time, and because I also have a sales background, I wrote

Maximizing LinkedIn for Sales and Social Media Marketing.

Now, beyond that, my third book is called

Maximize Your Social.

I wrote it to serve the needs of my community, the needs of my audience. And those needs were: (1) how do we write a social media strategy and (2) how do we measure social media ROI. Those were the two things that I was getting asked about the most from my clients and whenever I spoke. So, I wrote the book.

This latest book of mine,

The Age of Influence

, I wrote because the number one question I was getting asked over the past few years, whenever I was speaking or working with clients, was regarding influencers. Influencer marketing and influencers. And as I did research on the subject, I realized that most marketers were being miseducated and misled. So, I decided to write the book to set the record straight and to help businesses leverage the potential that is out there.

Now with all of my books, there is a mindset shift. And the mindset shift is always the first few chapters. Unless you shift the mindset, you're never able to maximize the potential of the tactical advice I've given in later chapters. So, I'm actually working on my next book. I'm still conceptualizing it, but it's very relevant to the coronavirus situation we're in. And it's really going to be (you know, I wrote a book about "Maximize Your Social") more of a "maximize your digital." But it's going to talk about all the ingredients you need to cook up your own uniquely effective digital marketing strategy. Influencer marketing is part of it, content is part of it, social media is part of it. And it all comes with a mindset that we can make a hundred percent of our marketing digital. And if we start with that mindset, I think we're going to be really successful.

So, I'm excited to start writing that once I get a little bit of closure on

The Age of Influence,

and I have my own KPIs in terms of how closure is measured. But I just sent out a newsletter today where I talk about "leaving no stone unturned," and that's been my approach. I want to do all that I can so that this baby that I "gave birth" to a few months ago (even though I'm a guy) has its best chance of walking and helping more and more people through its journey.
SEOlium:

You're also a world-class Social Media speaker. Can you tell us more about how it all started? What you're your next speaking gigs? And what speaking advice do you have for younger speakers who want to make a name for them?

Neal Schaffer:

I started speaking naturally. Like I said, I was blogging about LinkedIn. I started going to a lot of local networking meetings here in Orange County, California, in Southern California. And I just got invited to speak at a lot of different events. So, it just happened naturally. Obviously, at the beginning, I would speak for free. It was an honor. And then over time, as soon as I published a book, I said, "Hey, would you buy some copies?", you know, for a speaker honorarium. And then it became, you know, something that became a bigger and bigger part of my income stream.

So, my next speaking gigs. You know, I was supposed to speak in Belgrade, Serbia in May, and that got postponed. They're going to try it again in September. We'll see with coronavirus if that's actually going to happen. I was supposed to speak in Mexico City in May, and that's been postponed. I am doing a lot of virtual speaking. If you were to sign up to my mailing list on nealschaffer.com, you'd get informed whenever I have a new event. But yeah, those are my next engagements. We'll see what my next physical speaking gig is. I don't think it's going to happen in 2020. It's probably more like 2021. It may be not until the second half of 2021. So, if you want to see me speak now, it's going to be virtual online.

So, for younger speakers, you know, you got to speak for free. You got to start somewhere. And I think that people want to hear someone that they already know and who's an expert on the topic. For me, that was going around to a lot of networking meetings and it was blogging. And I think you should be doing the same. You should become a content creator, share your ideas. Share your perspectives on social media, on your blog,

through a podcast

. Look around locally for opportunities to speak. Right? Look at where Neal Schaffer is speaking, where other people are speaking. Contact the organizers: "Hey if you're looking for speakers, I love to speak. Here's what I talk about or what I write about." You know, it's going to be a lot of hustle, but that's, I think what it takes to be successful over time.
SEOlium:

Neal, I know you fluently speak a million languages and have visited a billion countries. Where have you not been already, but always wanted to? What are your most favorite places on Earth?

Neal Schaffer:

I don't speak a million languages. I haven't visited a billion countries. (laughing) So, I've spoken on four continents. I don't expect to speak in Antarctica, but Australia and New Zealand are countries I've never been to that I would love to go to. I've been meeting a lot of people virtually since the pandemic started and been a guest on podcasts and stuff. I've met a lot of great folk from Australia, New Zealand. It's a part of the world I really want to get to. There are also some countries in Europe that I've never been to. Much of Eastern Europe I've yet to get to. I've been to Hungary, I've been to Romania, but I haven't been to any other countries. Like the Czech Republic and Poland and Ukraine and Belarus and Bulgaria. I was really looking forward to going to Serbia as well. There are countries in the Middle East I've yet to go to. There are countries in Africa I've yet to go to, countries in Asia I've yet to go to. Vietnam is on my bucket list. I've never been to India. So, there's plenty of countries I would love to go to, right?

My most favorite places on earth? Well, you know, I live in the United States, which I love, and I spent 15 years of my life in Japan, which I love. I have wonderful memories of the time I've spent in Indonesia. Almost every country I've visited in Europe I've loved, and South Africa (I only got to visit Johannesburg). I met so many people from Cape Town saying "Neal, you got to come to Cape Town!" So, wherever I go in the world, there are beautiful people and beautiful countries to visit. It's hard to have a favorite. But if I had to pick two, then I would pick those countries where I've spent the most time, for obvious reasons.
SEOlium:

From your observations – is business being conducted differently in the US compared to other places in the world? Is Social Media different in the USA vs Europe, for example? What can we learn from each culture?

Neal Schaffer:

Yeah, it is different. Slightly. I think when it comes to social and digital media marketing, the United States seems to be a little bit ahead of the world, but on things like mobile social media and mobile commerce, China is ahead of the world, right? And everybody's trying to emulate them. When it comes to influencer marketing, China and Southeast Asia are ahead of the world. And Europe is really not that far behind North America.

So, I think the concepts are the same, but the social networks are different, or differ by country and the way we use social networks differs by country. But I think those sorts of pillars of digital marketing are the same. In some countries, the influencer marketing piece is going to be more important, and in some countries, the email marketing. You know, the text marketing or WhatsApp marketing or Facebook messenger marketing might be more important than email. Right? But I think it's the same concepts that apply to social or SMS marketing, depending on the market. I do believe the same concepts apply as we all go more digital and we become more and more users of digital technology and social media.
SEOlium:

Thank you for all these amazing insights! We need to know one more thing. Please tell us a few productivity tips, aka how to avoid procrastination in Social Media?

Neal Schaffer:

You're welcome.

Boy, you need to figure out why you're on social media and stick to a system. So, limit yourself on how long you spend on social media each day. Go in there and get your work done, then get out. Right? I'd rather you focus on prospecting, on engagement, on the content. And that's the tricky thing. So, you need to have a system in place. You really need to limit your time. One of the things that I do is: I do not go through my timelines in social media. I go into my notifications. And whenever I need to contact someone or engage with someone, I will literally search them and do that. The only network where I go into the feed is actually Instagram because I feel like I'm in control, I can see some really cool content. But you know, Facebook and LinkedIn and Twitter, they drag you into conversations that may be outside of your objective and you could waste a lot of time. Let's not do that, people. That would be my number one advice there.
SEOlium:

Thank you, Neal! This was awesome!
Sign up for our Google Rank Tracker SEO tool
Here are the SEOlium key features:
99.7% Ranking Accuracy – we don't buy ranking data from 3rd party APIs
No Artificial Limitations – unlimited projects, competitors, reports, keyword groups/subgroups/locations
Usage-Based Pricing – no monthly plans that you constantly underuse
Does this sound interesting? Good, because that's not all! Our free trial doesn't last one month only. It expires after we've performed 5000 Google checks on your behalf! Depending on your needs (e.g. 50 keywords tracked monthly) – it may last for years!
Registration successful. Please check your email address.
Please provide your email address.