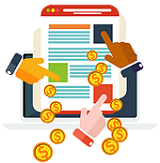 An advertorial combines an editorial with advertising: a well written, interesting and attractive paid article, comprising useful advice, the purpose of which is to advertise a product, service or brand, to generate traffic and enhance/maintain the positions of one's website in organic searches.
It is a good alternative of advertisements such as commercials or banners since it informs, is useful and less obtrusive. This type of advertising is considered one of the most efficient ways of promotion and is part of a website's
link building
process.
Types
Advertorials may be categorized depending on:
The journalistic style
Interview
Item of news
Feature report
Story, etc.
The conversion rate
Articles written for a particular product or key word, respectively. They focus on immediate promotion, with results visible on the spot, though conversions are intended for a limited period
Advertorials which target both optimization for keywords and enhancing traffic, making use of links to the page of increased interest in order to elevate the conversion rate.
One should also mention reviews, which provide very good results. The public appreciate other people's experience and opinions, are interested in expressing their own opinions and tempted to try the already tested product. Advertorial reviews contribute to optimization, recommend the product and many a time enhance traffic, as well.
Advantages
Although advertorials are well-rated and present within most optimization campaigns, one ought to be aware from the very beginning of the advantages and disadvantages or the risks that have to be undertaken. Here are the main advantages:
Grabbing one's attention – David Ogilvy himself wrote that if advertising takes the appearance of a regular article in the editorial which presents it (nowadays this applies to the online environment, as well), is shall be read sixfold. This is due to people reading more engaged an informative and interesting article than a simple advertisement or text on a banner.


Credibility – Advertorials take priority in this respect over many other types of advertising. Why is that? Because, most of the times, they render a well-sorted and well-conceived story, which subtly lists the qualities of a product or brand. One must not ignore the fact that such articles may (or may not) gain from the authority of the source they are published in. The paid article shall be more credible if it is posted on a renowned website.


Conducting the link-building process in a natural manner, adequate for search engines. The most valuable backlinks come from posts and articles published on websites (with higher authority) and help increase visibility in searches.


They stimulate the page indexing process, which increases visibility and leads to the highest possible positions based on certain keywords in searches.


Increasing visibility and a better positioning within organic search results have recently been primary objectives for the owners of many websites. Naturally, better visibility entails higher authority, but also the possibility of increasing the conversion rate, which brings higher income.
All of these advantages may be obtained only if we post exemplary advertorials, with contents written not for search engines but, first and foremost, for the target audience.
5 pieces of advice for a high-quality advertorial
In order to take advantage of all the benefits of a paid article, not to throw away money without getting results, but also to avoid other unpleasant surprises following an advertorial campaign, we recommend that you analyse and put into practice the following ideas:
---
---
SEO
idea
#1
Study the website the advertorial will be posted on
---
---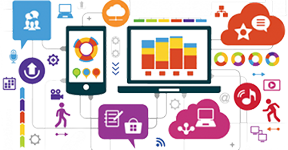 In order to obtain credibility, relevance and authority you need to know very well the style of the website you will publish on. An article that is not essentially different from the others posted on the collaborating website is deemed a high-quality one and will grab more readers' attention. It is desirable to borrow the language, topics and design of the other posted articles. If, at a glance, you do not seem to find common topics, but the website authority is high and the possibility of placing an advertorial here is unique, you need to get creative and come up with a good article, in line with the other materials on the website where you intend to publish. The size of an advertorial is another major aspect and should not be different from the size of the other texts on the website. The headings of the paid articles should not be sprinkled with superlatives, should be concise and straightforward, just like those of the articles on the chosen website. Remember! A high-quality advertorial is an article whose content does not give the reader the impression it is an advertising article.
Remember! A high-quality advertorial is an article whose content does not give the reader the impression it is an advertising article.
---
---
SEO
idea
#2
Publish on collaborating websites with similar topics
---
---
You cannot publish an advertorial about angling on a blog for cooking recipes as, in this case, the chances of achieving the envisaged objectives are minimum. You need to observe the general topics of the website you publish on so as to avoid not only arousing the readers' suspicions, but also penalties from Google.
---
---
SEO
idea
#3
The text must have a non-advertising nature
---
---
In order to come up with a non-advertising advertorial, we have to "artistically" mingle the information intended for promotion with information that is useful and relevant to the human factor. The basic (advertising) message of the advertorial must be masked so that readers should spend more time on the page and find as much useful information as possible.
---
---
SEO
idea
#4
The content has to be impeccable: interesting, captivating, useful, trustworthy and, of course, grammatically correct
---
---


It is simple: you would not be able to gain the readers' trust and convince them that the company is serious if the content published is irrelevant from an advertising perspective, as well as garbage.
---
---
SEO
idea
#5
Optimizing content for SEO
---
---
This is important, but not a vital matter. The text needs to contain certain keywords, but their number has to be perfectly balanced: not too little, as they might fail to arouse interest, and not too many, so as not to have sanctions imposed, both from the search engine and the reader.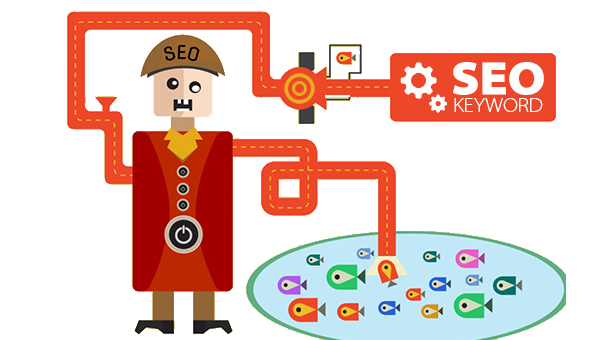 It is not difficult to obtain a high-quality advertorial, but you do need patience, skills, analysis or, to simplify, you could resort at any moment to the management content services we provide.
Risks and solutions
You may have already realized that the advertorial is an effective promotion method in the online environment, one which may also bring along, however, the risk of penalties, if they are not written in accordance with the search engine rules.

Matt Cutts, the ex-manager of Google's spam-fighting team, has explained countless times how Google handles advertising articles. He mentions that online advertorials, used to enhance, by means of the inserted links, the level of authority of the benefiting website, represents a manipulation attempt of the search engine. As he explains, there are two basic rules an advertorial has to abide by and both focus essentially on the idea of announcing that the article has an advertising nature, so that both the search engine and readers should realize this aspect prior to reading the material. The solution Cutts proposes is the following:
Announcing the search engines
Paid links should not be included in the Page Rank algorithm

Ex: rel="nofollow"
Announcing the readers
Clearly and visibly

Ex:"Advertising" or "Sponsored"
Is it or is it not a correct solution? An objective answer is difficult to give. Naturally, for those who publish advertorials, enjoying the results, but also for the websites accepting them, stating this fact publicly should ideally be at their sole discretion. Nor would a reader see it as a fatal mistake if the article were not announced as a paid one. You do not necessarily need to know the commercial form so long as you enjoy a good content. In reality, any service is nowadays paid for and readers are well aware of that.
Suggestions for choosing the website to publish on
In order to get the expected and a long-lasting result after publishing an advertorial, but also to avoid penalties, the website where you are about to publish has to be very carefully selected. Here are a few recommendations of ideas meant to help you find the perfect spot to post the advertorial:
Avoid websites which publish only paid articles. These become less credible, have a lower number of visitors, thus providing minimal publishing benefits.
Opt for websites which do not abuse external links (which are not link farms).
Do not resort to collaborating with websites having mirroring content (which is found in an identical or nearly identical form on other web pages).
Do not publish on websites with poor-quality content. They undoubtedly have a lower number of visitors.
Avoid websites that are over-optimised, containing many keywords (keyword stuffing).
Resort to websites with seasoned presence on the market and an already established authority. On the other hand, freshly emerged websites, too, may be an ideal option if they have high potential. In this case, over the years, you may get to post advertorials on a renowned website while saving considerable amounts in the process.
Analyse from the very beginning not only the website the article is to be posted on, but also the page itself. You should ideally post in a column that is as popular as possible, grabs increased attention and not just momentarily. Keep in mind the number of articles published on a weekly or monthly basis and find out what happens to advertorials after archiving. It is important that they be visible and easily accessible for as long as possible.
Prices
Prices for publishing advertorials differ from one website to another and certainly from one country to another. When the price is estimated for posting an article several factors are taken into account:
the age of the domain;
the website authority and popularity;
the number of external links on the page;
the number of posted advertorials.
Posting an advertising text on a news website would cost approximately between 300 and 1000 Euros, and on average between 30 and 400 Euros on a known blog, depending on the above mentioned criteria, but also on the location (costs may vary from one country to another). The prices are calculated for traffic, as the promoted website is considered to automatically receive a few tenths or thousands of visits. Although news websites receive a higher amount for posting an external article, posting on their webpages is not always a perfect solution. The problem of news websites is the high number of external links. There are websites hosting over 100 external links, which provide an advertorial with very little value for the SEO strategy.
Blogs, lesser-known websites and local news websites charge for posting a paid article around 5-30 Euros. For small enterprises with a start-up strategy, but also for those intending to promote themselves on an averagely competitive niche, placing advertorials on lesser-known websites is a perfect solution.
Conclusion
Promotional or advertising texts may bring along benefits for an SEO optimization campaign, enjoy credibility among the audience, but only if they are high-quality, well-conceived, placed on a website with authority and observe both the moral rules and those suggested by Google. For your inevitable success, remember to write first and foremost for the people!